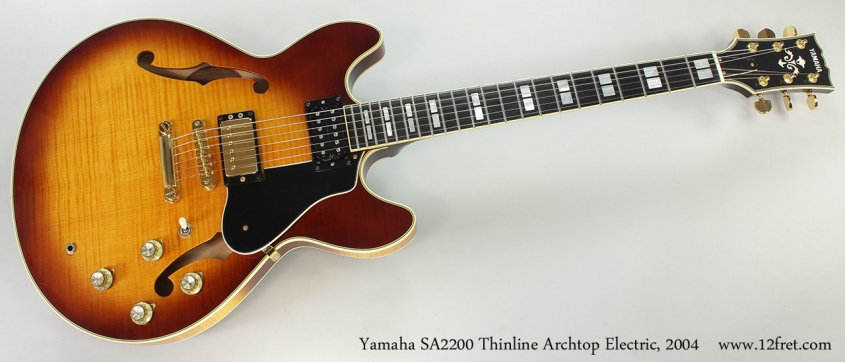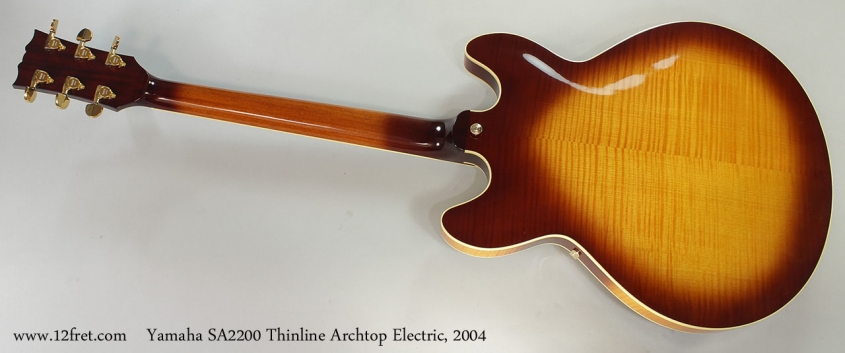 Price: CDN $1999
US Price:
US $1591.94
*US dollar exchange varies daily
Class: Used
Consignment
SOLD
S/N: QKM025I, dates to Junbe 2004
The Yamaha SA2200 thinline archtop is based, like so many other instruments, on the wildly successful Gibson ES-335 concept. This design features a solid block down the center of an otherwise hollow body. This construction combines the warmth and round tone of an archtop with the sustain, clarity and feedback resistance of a solidbody.
Yamaha has been a major industry in Japan, dating to its origins in 1887 as a piano and organ manufacturer in Hamamatsu, Shizuoka prefecture. Now, it has grown far past this and produces items as diverse as motorcycles, audio equipment and appliances.
This example of the Yamaha SA2200 is in very good condition. It has been played and there is light to moderate fret wear, but it plays nicely and cleanly. The finish is not overly heavy and is largely unmarked. The neck pickup cover has been removed.
Dating Yamaha guitars is not easy because they have used a range of schemes and they repeat, with no marking, every ten years. This guitar, serial number QKM025I, breaks down this way:
QK = 04, with the Q meaning 0 and the K meaning 4 and we know that these were introduced too late to be 1990s.
M = June.
025 = a production sequence number, likely built in the early days of the month.
I = a factory internal designation, meaning unknown.
A brown Gibson hardshell case is included.
Contact The Twelfth Fret Regarding This Item