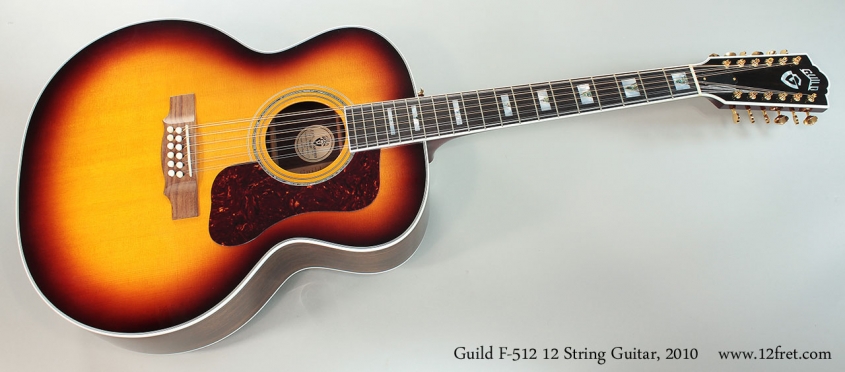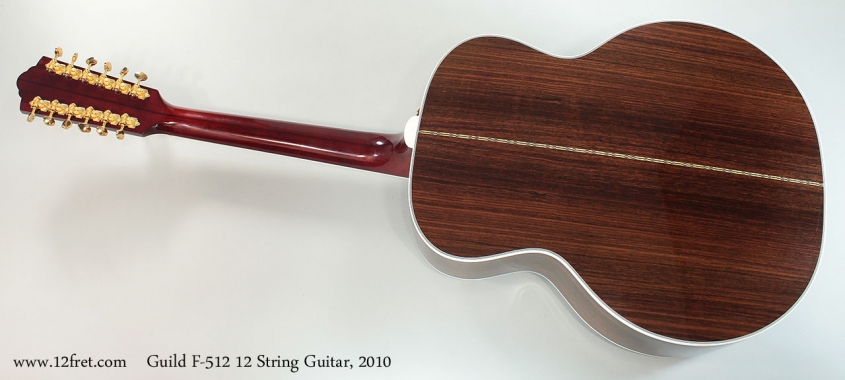 Price: CDN $2989
US Price:
US $2380.35
*US dollar exchange varies daily
Class: Used
Consignment
SOLD
S/N: NN109003, dates to April 10, 2010 and built at Guild's shop in New Hartford, Connecticut.
We've just received a Guild F-512 12-string guitar, built in 2010. This fantastic instrument is in nearly new condition throughout.
Here's what Grant MacNeill has to say about this exceptional guitar:
Six years ago I stated that the Guild Jumbo-body 12 string model was the best acoustic 12-string guitar ever made!!
See more at this archived link here.
Note: The difference between the Guild F-412 and the Guild F-512 is the body wood. The F-412 has flamed maple for the back and sides (the back is laminated), while the F-512 uses solid Indian Rosewood.
I still feel the same way about Guild 12 string guitars. The unique design of the Jumbo body Guild F-512 and F-412 offers a huge bass response yet retains superb note-separation and clarity.
There is so much going on 'harmonically' with a 12-string guitar. A simple triad chord has 6 strings ringing at once! Normally with 12 strings, if they have a full bass response then trebles become indistinct. What should be a lush, complex wave of sound becomes muddy and individual notes are buried in the mix.
The Guild Jumbo 12 strings are the exception. Way back in-the-day, the Master Luthiers at Guild really got it right with this model!
Todays feature is a New Hartford built guitar completed on April 10 of 2010. Remarkably this guitar looks 'as new' and still even had the peel-and-stick protection film on the pick guard! It has clearly been stored in a properly humidified environment these past 6 years and appears virtually unplayed. Action is in the normal range with plenty of room at the saddle to raise or lower action to suit the player. Generally I set 12 string at 4.5/64ths inch on the treble and 5/64ths inch at the bass side.
As typical of these guitars the volume is huge, note clarity is very good and it sustains 'forever'!
The original faux-aligator hardshell case is as-new.
Grant MacNeill
Visit the new Guild Guitars website to read more about current versions of the Guild F-512 12 String!
Contact The Twelfth Fret Regarding This Item