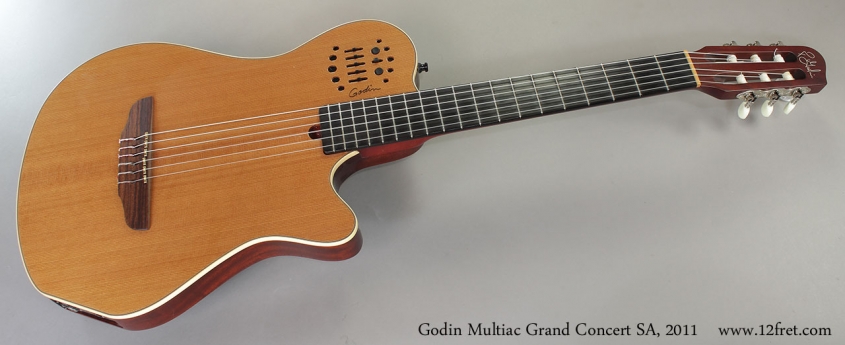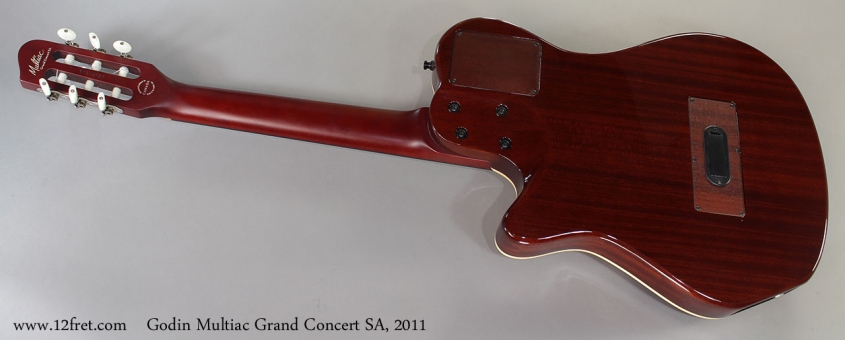 Price: CDN $950
US Price:
US $756.55
*US dollar exchange varies daily
Class: Used
SOLD
S/N: 11513109, dating to late 2011
The Godin Multiac Grand Concert SA is a performance quality nylon string semi-solid 'crossover' guitar. This means that while it's got the general scale length of a classical guitar (650mm) and a 2 inch nut, it also has a 24 inch radiused fingerboard making it much easier for players who are used to steel string guitars.
The Multiac design is derived from the 1981 Gibson Chet Atkins CEC cutaway classical solidbody guitar, but with dramatic improvements. The Multiac is a much more practical, versatile and playable guitar. We regularly receive requests from customers looking for the out-of-production CEC, and we recommend the Godin Multiac in its place.
Built with a cedar top on a chambered mahogany body, a mahogany neck with Richlite fingerboard and rosewood bridge, the The Godin Multiac Grand Concert SA is equipped with two separate pickup systems. The piezo bridge pickup runs through the distinctive Godin control and EQ section on the top, and there's also a 13-pin Synth Access connector (hence the SA in the name!). The active electronics are powered by a 9v battery, easily accessible through the back.
This guitar was built in 2011, and is in very good condition. There are a few small play wear type marks but no dents or significant scratches. Fret wear is very light. A gig bag is included.
Visit the Godin Guitars website and read about the Godin Multiac Grand Concert SA here!
Contact The Twelfth Fret Regarding This Item