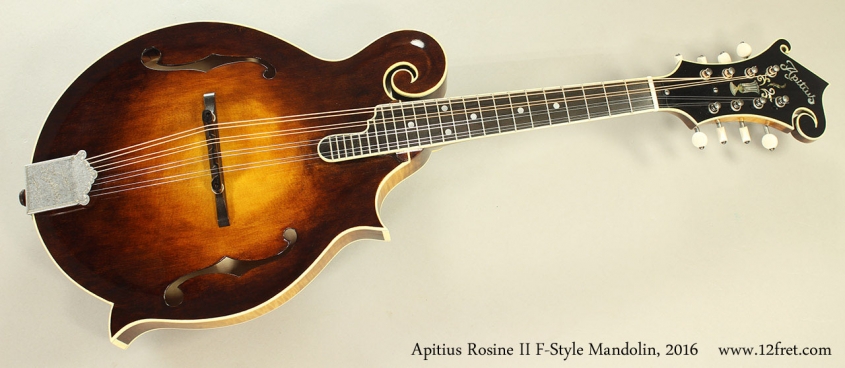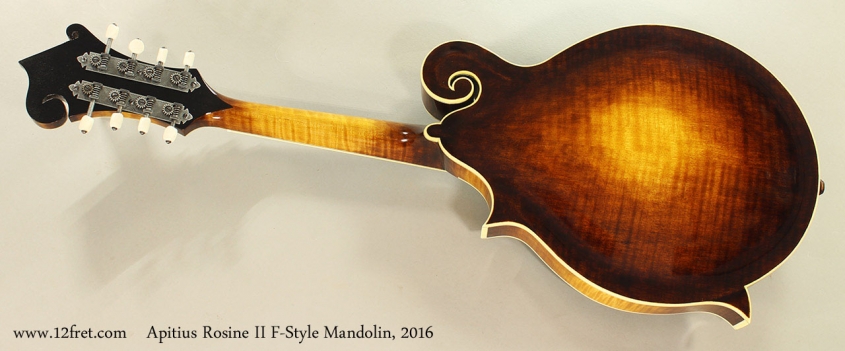 Price: CDN $9128
US Price:
US $7269.25
*US dollar exchange varies daily
Class: New
Consignment
SOLD
S/N: 10915, completed during 2016 at Oliver Apitius' shop in Dufferin County, southern Ontario.
Wow! - A brand new, spectacular Apitius Rosine II mandolin from Oliver Apitius! The Rosine is based on the classic Gibson F-style mandolin and named for Bill Monroe's birthplace in Rosine, Kentucky.
Oliver Apitius hand builds mandolins in a one-person shop in a small town in Dufferin County, southern Ontario. These are absolutely top shelf instruments, with every detail attended to. It's not common to see an Apitius mandolin for sale - new, they are mostly already custom ordered and as they are so prized, they are very rarely available used. We are very happy to have a few come through our shop.
The Apitius Rosine II is based on the classic 1920's Gibson F-Style mandolin and features an F-style body built with fine-grained European (Alpine) Spruce and European Maple viola sets for the back and sides - all the woods are seasoned for twelve years in the Apitius shop. The head is angle-cut and tapered with dyed pearwood veneers front and back.
The shaded finish on this mandolin is a careful reproduction of 1920's finishes and techniques. The Rosine stain is hand rubbed. From the early 1930's, most shaded finishes have been sprayed; hand rubbed and sprayed finishes have quite different looks. The finish itself is a spirit varnish applied using French Polishing, which allows a very thin and acoustically transparent protective coating.
The scale length is 355mm (13.3/16 inches), and the nut width is 29mm (1 1/8 inches). The fingerboard radius is 190mm (7.5 inches). The 15: ration tuners and tailpiece are Golden Age models with with antiqued nickel finish. A hardshell case with Apitius logo is included.
Visit the Apitius Mandolins website here!
Contact The Twelfth Fret Regarding This Item