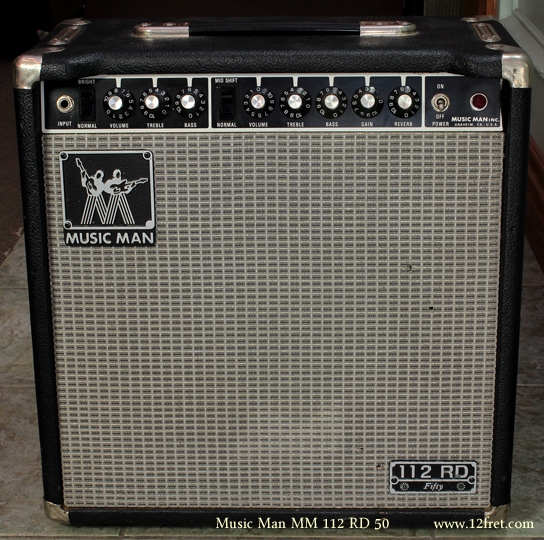 Here is a very clean 1980s Music Man MM 112 RD50 amplifier.
Leo Fender sold his namesake company to CBS Musical Instruments in 1965.
In 1971, he quietly formed a new company named Tri-Sonics Inc. with Tom Walker and Forrest White. This company started to design instruments and amplifiers (the amp design was done by one of the partners, Tom Walker), and in 1973 changed its name to MusiTek, but that name didn't stick and in 1974 was changed to Music Man. In 1975, Leo Fender's non-compete agreement with Fender ended, and he was able to take an active role in the guitar and bass efforts.
Music Man started building and selling amps in 1974. Many of these amps are tube-transistor hybrids, and are noted for being clean and loud.
Music Man instruments were another story. These were made by a separate company, CLF (Clarence Leo Fender). Unfortunately, there were many quality control issues. And In 1981, Leo and George Fullerton started G&L, and CLF made those instruments too.
Sadly, by 1983, internal company problems forced Music Man to cease production of amplifiers. In 1984, Ernie Ball bought the Music Man line and to this day builds the Ernie Ball Music Man lines of guitars and basses – but no amps.
The MM 112 RD 50 was produced from 1980 to 1983. This very clean example from the early 1980's features 50 watts, a single 12 inch Electrovoice (EV) speaker, reverb and a distortion circuit (the gain control).
Serial Number: EN 13149.
Pricing: $699.00 with soft cover. SOLD
---
You can preview our videos now on Our YouTube Channel!
You can now Visit our Facebook page!