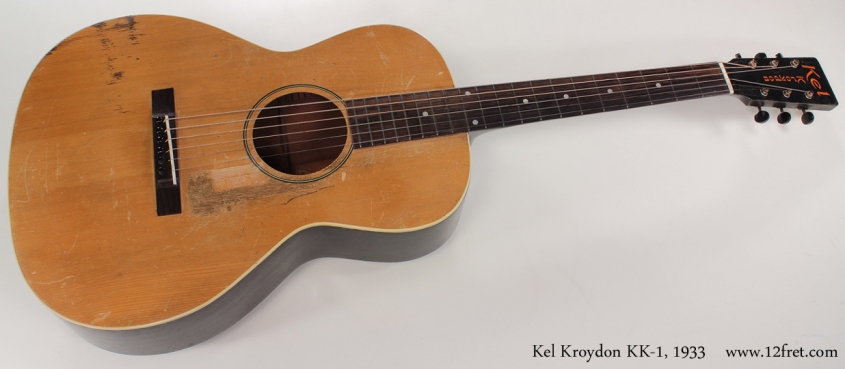 Comments
This is a 1933 Kel Kroydon KK-1 steel string guitar. Kel Kroyden instruments — including guitars, banjos and mandolins — were made by Gibson and sold in department stores. This was all in an ongoing effort to increase their sales with lower-cost instruments without diluting the value of the Gibson name, or alienating Gibson dealers. Kalamazoo instruments appeared around the same time, for the same reasons.

These instruments were made from 1930 to 1933.

It's unclear where exactly the name comes from, but Gibson also made wooden toy sailboats with the Kroyden name before the instruments appeared.

Kel Kroydon guitars are generally quite good, very lightly built, and very responsive. This specific instrument reads about 2.5 pounds on our shipping scale (without case).

This example from 1933 is in good playing condition, with an amount of finish wear that's been sprayed over.

Serial Number
97667, built during 1933 in Kalamazoo, Michigan, at the Gibson facility.
Pricing
$2,750.00 CAD with non-original hardshell case. SOLD
Neck
Mahogany neck with unbound rosewood fingerboard and dot position markers. Joins the body at the 12th fret; Kel Kroydon logo stenciled on top of the peghead. MADE IN THE USA stamped into the back of the headstock.
Frets
Narrow frets with minimal wear. At some point, this instrument was refretted and had a neck reset, and the board is smooth and it plays very well.
Body
L-0 style body. X-braced Spruce top with mahogany back and sides; a single layer of binding on the top. Rosewood bridge.
Finish
Clear nitrocellulose finish; the sides, back and neck were originally stained dark. Overspray on the body.
Hardware/electronics
Original tuners; bone nut and saddle.
Playability/Action
Plays very well, partially due to a refret and maintenance; there is lots of room on the saddle to adjust the action. These instruments are intended to be strung light — they are built and braced very lightly.
Case
Newer hardshell case included.
---
You can preview our videos now on Our YouTube Channel!
You can now Visit our Facebook page!