---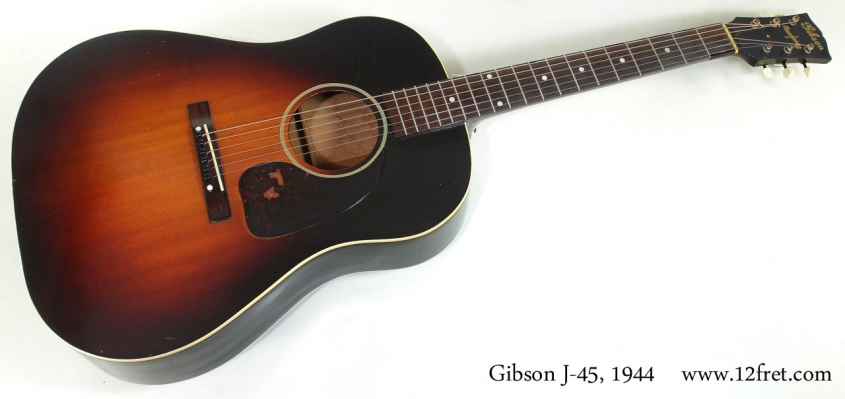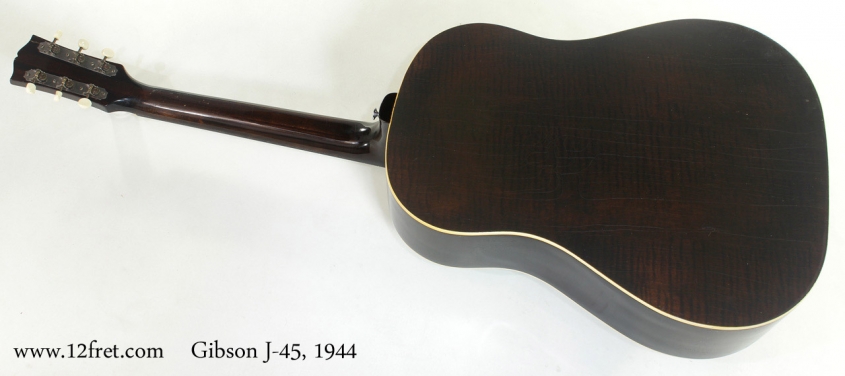 ---
Here's a great early piece – a 1944 Gibson J-45, built during the third year of J-45 production. Drawing heavily on the design of the just-discontinued J-35, the J-45 mostly differs with stiffer X bracing, tall, thin and scalloped top bracing, a fatter, non-V neck profile, and only being available with a sunburst finish.
The mandatory sunburst finish addressed an entirely practical issue – during the war, top quality wood supplies were in short supply and a sunburst is very good at hiding visual flaws.
The Gibson J-45 has proved to be an extremely popular guitar and is still in production. For all its simplicity, it's a great sounding guitar, with a warm, rich fat tone and good playability.
This example from the third year of production is in good shape, and in good playing condition. There is some evidence of respray on the treble side, and the faux tortoise pickguard is deteriorating. Otherwise, it plays well, the neck angle is good because it's had the neck reset that virtually every quality steel string of a certain age is going to require. The spruce top is in good shape as are the flame maple back and plainer sides. The neck is 3-piece maple with an unbound rosewood fingerboard, mother of pearl dot position markers, and a screened Gibson logo and 'Only a Gibson is Good Enough' banner.
Playing it right now in the photo room with a fresh set of strings, it has an awesome tone that fills the space with warm richness. Played fingerstyle, there is a lovely interplay of detailed harmonic overtones.
This post is updated from the original, where the guitar was mis-identified as a 1942 model. John Thomas, who wrote the excellent book 'Kalamazoo Gals' about these 'Banner' Gibsons and the craftswomen who built them – has provided us with details to closer date it to 1944.
These details include:
– Simpler purfling around the top and plainer rosette; the earliest versions had more layers.
– A Sitka Spruce top, in two pieces – up to mid-1944, Gibson was using 4-piece Adirondack spruce tops, and this changed after they were purchased by CMI who provided the funds to replenish wood stocks.
– The laminated maple neck and maple back and sides appeared in 1944, with original models having one-piece Mahogany necks and mahogany back and sides.
– The FON (Factory Order Number, these instruments often don't have serial numbers) dates to 1944.
A registry of these Banner model Gibsons, put together by John Thomas and Willie Henkes can be viewed here.
Visit John Thomas's website here and read the fascinating story of Banner Gibsons.
For more information on the book Kalamazoo Gals, the women who staffed Gibson during WW2, click here!
Serial Number: No Serial number, there is a FON (Factory Order Number) number starting with 2828 Built during 1944 at the historic Gibson plant in Kalamazoo, Michigan.
Pricing: $9,999.99
---
---
You can preview our videos now on Our YouTube Channel!
You can now Visit our Facebook page!
Check out Grant's Banjo Setup Q&A