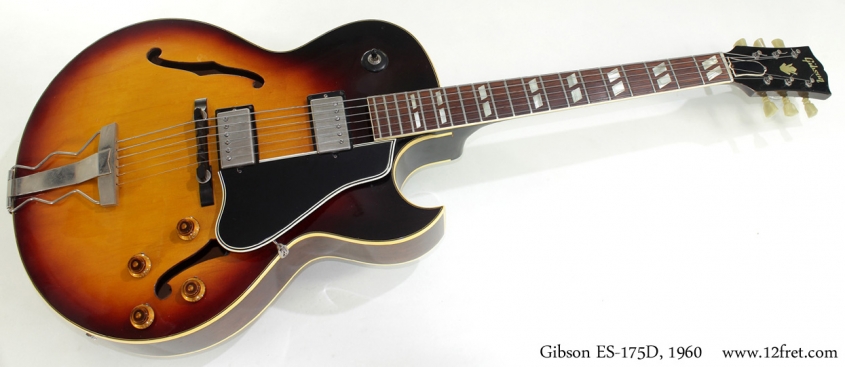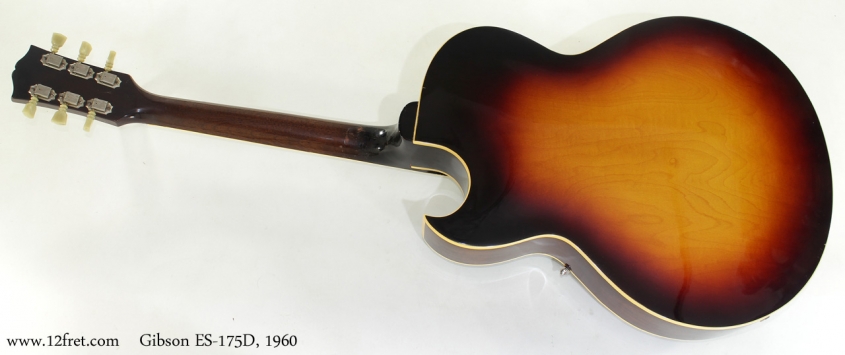 ---
Comments
The Gibson ES-175D first appeared in 1953, as a two P-90 pickup version of the single pickup ES-175 introduced in 1949. In 1957, Gibson added their all-new humbucking pickups to the ES-175, along with much of the rest of their lineup. Over the years, the Gibson ES-175D has become known as just the ES-175.Most commonly used by jazz players, the ES-175 does find its way onto rock stages; Steve Howe of Yes used a 175 for many years.

This 1960 Gibson ES-175D is in good playing condition; over the years it's been serviced with a refret and many of the hardware components have been replaced. The original PAF pickups have been replaced with mid-1960s Patent sticker models, Kluson double-line tuners (these appeared between 1964 and 1969), a period style reproduction tailpiece and compensated wooden bridge. It plays well, and sounds great.

Serial Number
A 33929, built during 1960 at Gibson's original plant in Kalamazoo, Michigan.
Pricing
$3999.99 Canadian dollars with mid-1960s hardshell Gibson case, or $3226.00 US Dollars (at 1.24% exchange) SOLD
Neck
Mahogany neck with bound rosewood fingerboard and split parallelogram position markers.
Frets
This instrument was refretted years ago, and there is some wear on the frets.
Body
Classic fully hollow, single cutaway body with parallel tone bar bracing. Maple laminate construction with two unbound F-holes.
Finish
Original tobacco sunburst finish in good condition with some natural checking.
Hardware/electronics
Much of the hardware has been replaced. Two-line Kluson tuners, newer compensated rosewood bridge, reproduction tailpiece and knobs; Patent sticker pickups from the mid-60s.
Playability/Action
Plays well and cleanly at a standard action height; the bridge can go a little lower. Currently strung with flatwounds.
Case
Mid 1960's Gibson case included.
---
---
You can preview our videos now on Our YouTube Channel!
You can now Visit our Facebook page!
Check out Grant's Banjo Setup Q&A
---