---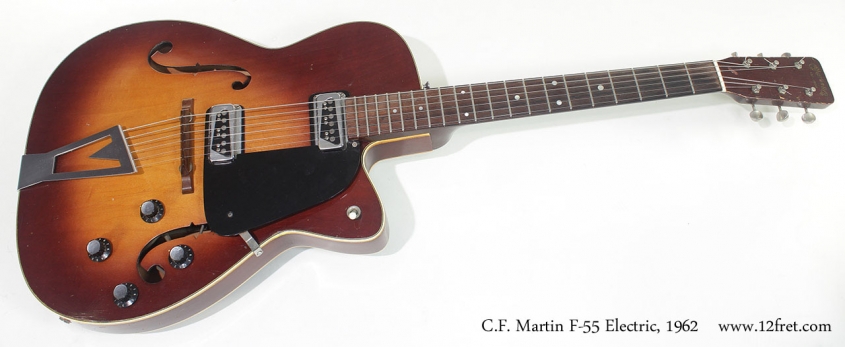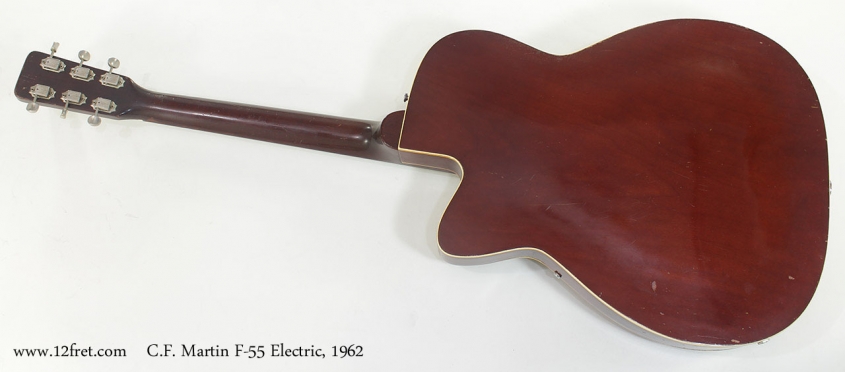 ---
Here's a rarity: A 1962 Martin F-55 Electric in good condition. This instrument appears to be complete and all original with the possible exception of the bridge. It plays quite well, with some fretwear.
The C.F. Martin Company was certainly well known for its acoustic guitars, but in 1961 Martin began to experiment with electric guitars, and by 1962 the F-55 entered production. This fully hollow thinline guitar features pressed-laminate maple body with F-holes on the top, twin deArmond DynaSonic pickups and a raised pickguard, a mahogany neck with rosewood fingerboard, a rosewood bridge (the original may have been plexiglas) and a distinctive M harp tailpiece. Production ended around 1965 with under two thousand instruments built.
The Plexiglas bridge used on some models is likely unique. This non-traditional material was used because of the industrial connections of one of the Board members, and was not used on any other Martin models.
Optionally, the Martin F-55 electric were also available with Bigsby tailpieces, as was the double-cutaway F-65. These Bigsby models had a distinctive M marking (like the harp tailpiece) on the main part of the casting.
While these guitars never really caught on, they are excellent, well made instruments and are sonically equivalent to others of the period, such as the Guild Starfire II and some Gretsch models with deArmonds DynaSonics.
I find this instrument quite comfortable to play. The neck is comfortably V'd and is not oversized, and the thinline body is a good fit with good balance.
Serial Number: 182287, dates to 1962 and built at the Martin plant in Nazareth, Pennsylvania.
Pricing: $1,799.99 Canadian with original arched hardshell case SOLD
---
---
You can preview our videos now on Our YouTube Channel!
You can now Visit our Facebook page!
Check out Grant's Banjo Setup Q&A