---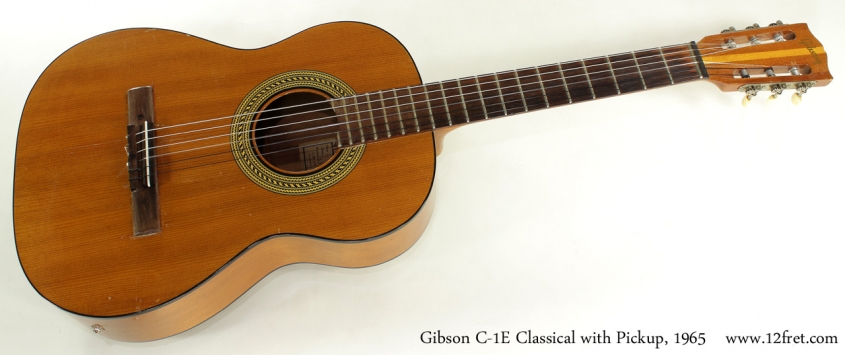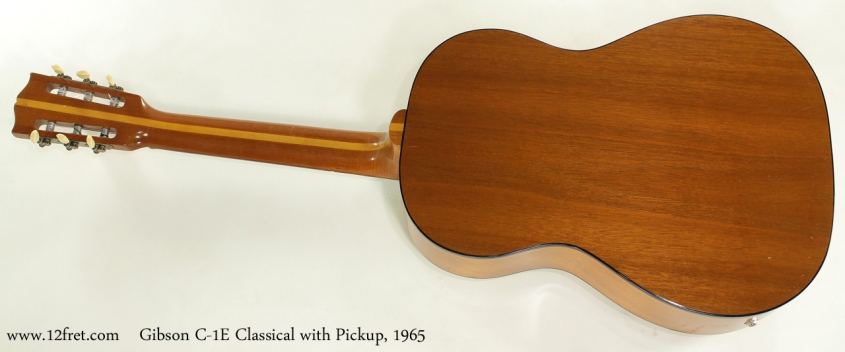 ---
Comments
Towards the end of the 1950s and into the early 1960's, Gibson – like other manufacturers – responded to the change in markets generated by the folk revival. Many people became interested in playing nylon-string instruments, which meant new product lines for steel-string instrument makers.These instruments were not really meant to be strictly traditional classical guitars – they were meant to play softer folk styles, often with a pick.The Gibson C-1 was introduced in 1957, and the Gibson C-1e model with pickup appeared in 1960. The C-1e was discontinued in 1967 and C-1 production ended in 1971.

This Gibson C-1e Classical guitar is in good playing condition, but isn't entirely original. The C-1e was originally fitted with a ceramic pickup; this has been removed, and a passive Fishman undersaddle system has been installed. This works reasonably and has decent string to string balance.

Serial Number
335095, built during 1965 at Gibson's facility in Kalamazoo, Michigan.
Pricing
$699.99 with non-original fibre case.  SOLD
Neck
Mahogany neck maple center strip, and unbound rosewood fingerboard.
Frets
Original frets (including zero fret) with minor wear.
Body
Classical sized body, spruce top and mahogany back and sides. The top and back are bound. Rosewood bridge.
Finish
Clear gloss nitrocellulose lacquer finish, with natural lacquer checking and some play wear.
Hardware/electronics
Original strip tuners with plastic buttons. The C-1e was originally fitted with a ceramic pickup; this has been removed and a Fishman passive undersaddle pickup has been installed.
Playability/Action
Plays well and cleanly.
Case
Non-original fibre case included.
---
---
You can preview our videos now on Our YouTube Channel!
You can now Visit our Facebook page!
Check out Grant's Banjo Setup Q&A
---