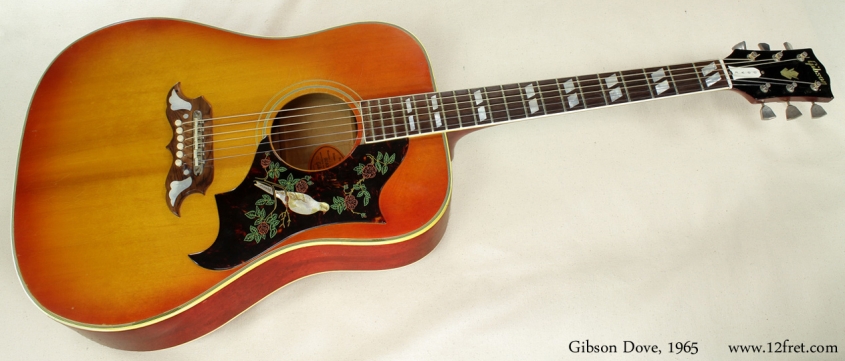 Comments
The Dreadnought guitar shape had become extremely popular by the early 1960's, and in 1962 Gibson had to respond to the pre-eminence of the Martin 'D' line by introducing two square-shouldered models of their own — the Hummingbird and the Dove.

Structurally, the Hummingbird has a shorter scale length – 24.75 inches, with mahogany back and sides, while the Dove has a longer scale length at 25.5 inches (very close to Martin's 25.4 inch scale length!) with solid maple back and sides.

The longer scale length and maple make the Dove brighter and a bit louder than the hummingbird.

This is a 1965 Gibson Dove, with an original tune-o-matic bridge used as part of the standard pin bridge. Mother of Pearl is used for the dove wing inlays on the bridge, the dove inlay on the pickguard, the split-parallelogram position markers, and the Gibson logo and leaf on the headstock.

The instrument is in good playing condition, with a few cosmetic events over its life. It's bright, clean, and loud, and would not only look great on stage, but sound great on a recording.

Serial Number
311779, built during 1965 in Kalamazoo, Michigan, USA.
Pricing
$3,750.00 CAD with non-original hardshell case. SOLD
Neck
Mahogany neck with bound rosewood fingerboard; mother of pearl split-parallelogram position markers. 25.5 inch scale length.
Frets
Body
Gibson square-shoulder dreadnought shape, with maple sides and back, and spruce top. Hand-painted Dove pickguard
Finish
Original cherry sunburst nitrocellulose lacquer finish, with possibly some overspray on the neck, possibly to deal with a wear mark behind the 10th fret. Long ago, the lacquer on the part of back 'pebbled' slightly in reaction to something it was laying on, but this is quite stable.
Hardware/electronics
All original hardware; Kluson Waffle-Back tuners with metal tulip-style buttons, original rosewood bridge with tune-a-matic bridge embedded plus mother of pearl dove wing inlays, hand-painted Dove pickguard with mother of pearl dove inset.
Playability/Action
Plays well and cleanly with the action set to 5/64ths inch on the treble side and 6/64ths on the bass. The tune-o-matic bridge adds a certain brightness and sparkle to these instruments.
Case
Non-original hardshell case included.
---
You can preview our videos now on Our YouTube Channel!
You can now Visit our Facebook page!