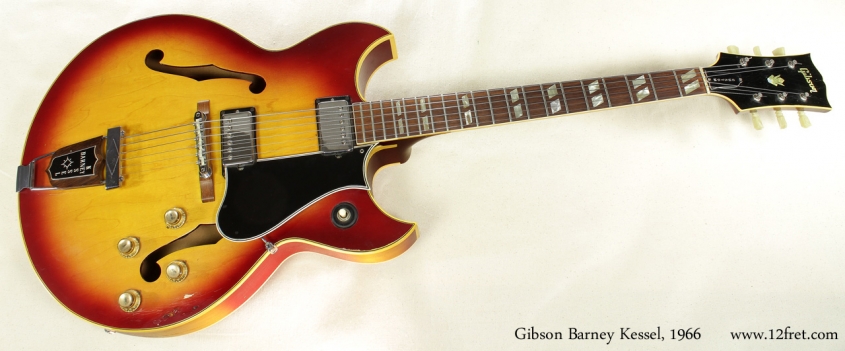 Comments
It's almost a sure bet that you have heard Barney Kessel. As a member of the 'Wrecking Crew', the group of go-to session musicians in Los Angeles during the 1960's, he played — anonymously, of course — on a vast number of hit records. Phil Spector's Wall of Sound, the Beach Boys, the Monkees, many widely played records, Barney Kessel was in the guitar chair. Sometimes it wasn't exactly a guitar – he plays a custom 12-string on the intro to the Beach Boy's 'Wouldn't It Be Nice'. He can be heard on the scores of many movies from the period — because he could play whatever was required.

Originally, though, Barney Kessel was a jazz guitarist, playing with Lester Young, Sonny Rollins Herb Ellis, Oscar Peterson and many others and on many record and movie sessions.

Barney Kessel died on May 6, 2004 at the age of 80.

This is a 1966 Cherryburst Gibson Barney Kessel Regular. Gibson produced the Barney Kessel model from 1961 to 1972, with a few shipped in 1973. There were two versions of the Barney Kessel, the Regular and Custom. The regular has nickel-plated hardware with gold on the Custom; Kluson Deluxe tuners with Grovers on the Custom; and split-parallelogram position markers on the Regular with 'bowtie' position marker inlays and a 'big note' headstock inlay on the Custom. Structurally, they are identical. Until 1965, the tops were laminted spruce, and for 1965 changed to laminated maple, which is a little brighter.

The Barney Kessel model has a lot of similarities to its contemporary, the Trini Lopez model. The primary differences are the shapes of the headstocks (the Lopez uses a very Fender-esque shape) and the soundholes. The Kessel has traditionally shaped F-holes, while the Lopez uses a diamond shape.

This example is in good playing condition, a very versatile guitar with lots of sustain and brightness. It has some wear and tear, and a little bit of repairable damage near the jack, always a vulnerable location on archtops.

Like the player the guitar is named for, the Gibson Barney Kessel is an extremely versatile instrument, suitable for pretty much any musical context. However, it is a fully hollow guitar, so where stage volumes reach the point where only solidbodies can survive, it may not be completely appropriate.

Serial Number
849004, built during 1966 in Kalamazoo, Michigan, USA.
Pricing
$2,750.00 CAD with original case. SOLD
Neck
Mahogany neck with bound rosewood fingerboard, split parallelogram position markers. Full access to the 17th fret!
Frets
Original frets with minor wear.
Body
Gibson shared this double-florentine-cutaway, 17 inch, 3 inch deep, fully hollow body with the Trini Lopez model, though the Lopez has 'diamond' shape soundholes and a six-per side, 'Fender' type headstock. Made with the standard maple laminates, the top has two longitudinal tone bars for bracing. Where the jack is on the lower treble bout, there is a 4 inch crack that could be repaired, and some likely corresponding damage on the top at the edge.
Finish
Original cherry burst nitrocellulose lacquer finish. There is some wear, a few dings and scratches particularly in the lower treble bout area near the controls and jack; in that area the finish is flaking slightly.
Hardware/electronics
Original hardware; Kluson Deluxe tuners with plastic keystone buttons, two humbucking pickups with selector switch, shielding cans on the pots, gold knobs and trapeze tailpiece with Barney Kessel plaque. Gibson ABR (tune-o-matic) bridge with nylon saddles and rosewood base.
Playability/Action
Plays well; currently strung with flatwounds, but even so it is bright with lots of natural sustain.
Case
Original case included.
---
You can preview our videos now on Our YouTube Channel!
You can now Visit our Facebook page!