---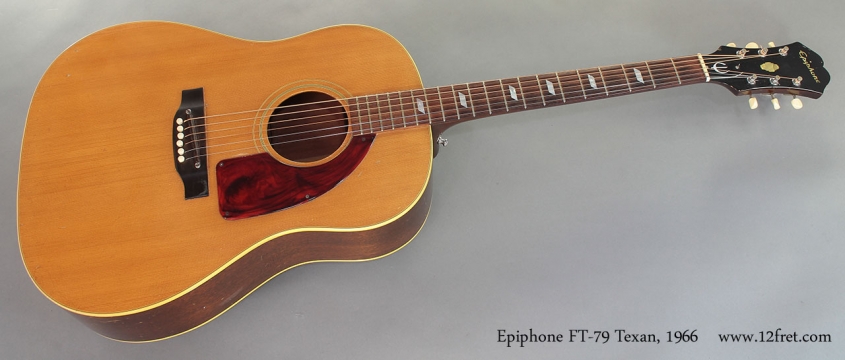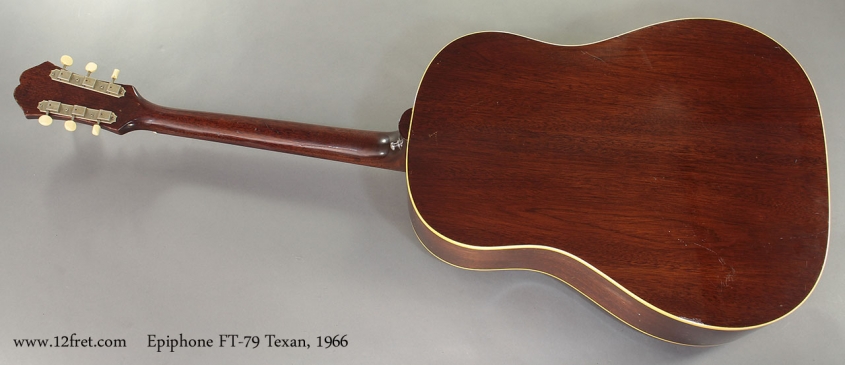 ---
The Epiphone FT-79 was originally produced by Epiphone in 1941, but not in the shape we see here. It was a small jumbo guitar, with walnut back and sides – looking very much like some later Guild models. After Gibson acquired Epiphone, the 1958 model was redesigned to carry Gibson's Advanced Jumbo slope-shouldered dreadnought body design and the name 'Texan' was added. In 1972, the rosewood adjustable bridge was added, and in 1967, the tuner buttons were changed to metal from plastic.
The Epiphone FT-79 Texan guitars are built with Sitka spruce tops with mahogany for the back, sides and neck; the 25.5 inch scale fingerboard and the bridge are rosewood.
It's almost a certainty that you've heard a mid-1960's Epiphone FT-79 Texan – Paul McCartney used his on the recording of 'Yesterday', which appeared on the 1965 Beatles album 'Help!" and as a single; and on the tune 'Blackbird', on the Beatles' White Album. The Epiphone FT-79 Texan has also long been a favourite of Tom Rush. Visit Tom Rush's website herem
This example of a 1966 era Epiphone FT-79 Texan is in good playing order and sounds great, and has had some work done to it over the years. Originally, the FT-79 used a 'belly bridge'; that was replaced many years ago with a traditional shape bridge, maintaining the adjustable saddle. There is some wear to the bridge plate. The pickguard has likely been replaced, and there is lots of natural lacquer checking.
Serial Number: 537602, built during 1966 at Gibson's historic Kalamazoo, Michigan plant.
Pricing:$2,099.99 with non-original hardshell case.
---
---
You can preview our videos now on Our YouTube Channel!
You can now Visit our Facebook page!
Check out Grant's Banjo Setup Q&A