---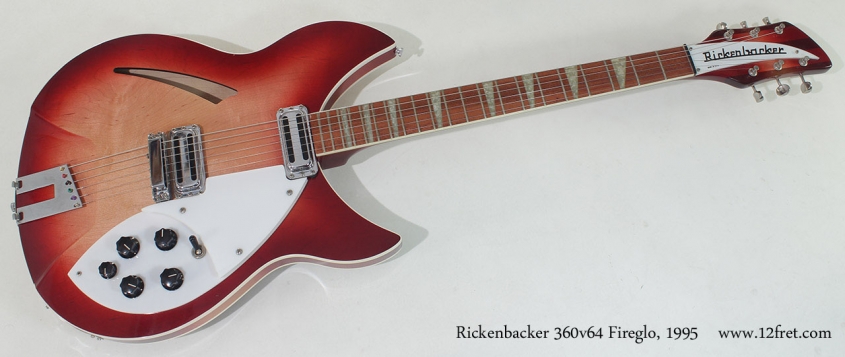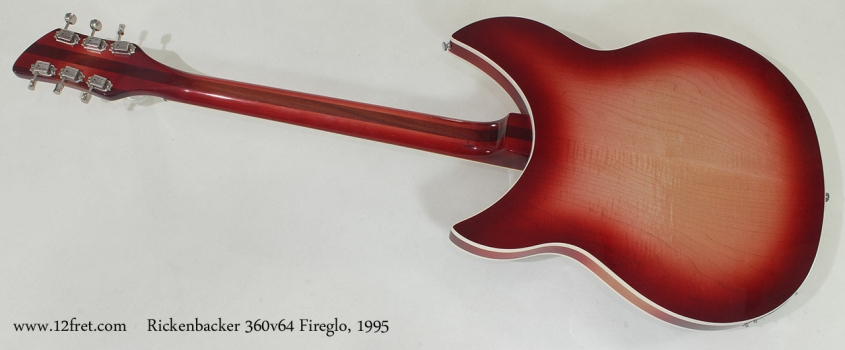 ---
To my eye this is one of the most distinctive guitar shapes – in a 1995 Rickenbacker 360v64 Fireglo. Introduced in 1958, the Rickenbacker 360 became popular in Europe, sometimes under other names and with subtle differences – for example, the Rose-Morris 1993 on the Who's iconic Maximum R&B poster. But for many people in North America, what really brought the 360 to attention was the 12-string version used by George Harrison.
The Rickenbacker 360v64 was built between 1991 and 2000. It's a recreation of the 1964 production, with toaster top pickups and Fireglo (cherry sunburst) finish, and wired for standard output and Rick-O-Sound; using a special two-headed cable, each pickup can go to a separate amp or channel.
The body is built in two pieces – the top and sides are routed out of a block of maple, the neck block extends through the body, and the back is another set of maple. This makes for a very light and lively guitar with lots of brightness and sustain.
This example from 1995 is in quite good condition with no damage and just a few small marks. There is very little fretwear. The neck profile is not as slim as many actual early 60's instruments could be, but is not 'chubby' either. It's currently strung with light guage strings.
Serial Number: K8 5038, built during 1995 at the Rickenbacker plant in Santa Ana, California.
Pricing: $2,499.99 with orginal silver rectangular hardshell case   SOLD
---
---
You can preview our videos now on Our YouTube Channel!
You can now Visit our Facebook page!
Check out Grant's Banjo Setup Q&A