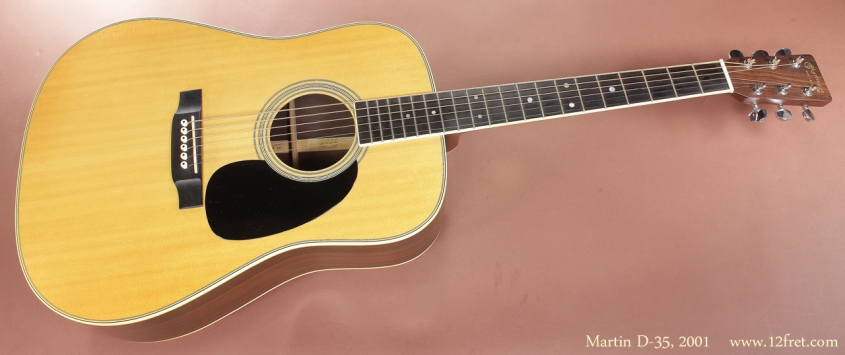 Comments
Rarely do we see a 12 year old Martin that has been so well cared for.

This 2001 Martin D-35 was custom ordered through the Twelfth Fret for a client who wanted the neck contour that he grew up playing as a kid; the soft V profile of the late 1960s.

These necks hardly warranted the term "soft V" as one can barely sense the V profile. Imagine a V neck that has had almost all of the V sanded out of it and you get the idea. It is only obvious once one compares to the current Martin low-profile neck contour; a shallow C profile.

By 2001 all new Martin D-35 guitars came with a Low-Profile neck so this was a one-off Martin Custom Shop order. The owner was heartbroken to let it go but "needs must" and it had to be sold.

The Martin D-35 is unique in the Martin Dreadnought family. The 1/32 thinner top braces, both X and lower bass bars are slimmer which adds up to significantly less mass and stiffness in the top. This makes the D-35 ideal for light to medium right-hand-attack players and players who use a light or medium pick. Whereas the heavier bracing on a D-28 performs best when played more aggressively, the D-35 really comes to life when played lightly. It's the perfect guitar for those late night solo picking sessions.

Full, fat bass tone and nicely balanced trebles. This guitar has been waxed and polished countless times and the condition is immaculate.

Serial Number
803016, custom built during 2001 at the C. F. Martin plant in Nazareth, Pennsilvania.
Pricing
$1,750.00 CAD with original case. SOLD
Neck
Mahogany neck with bound ebony fingerboard, and 1960's style 'Soft V' profile. Adjustable truss rod.
Frets
Original frets with no appreciable wear.
Body
The classic Martin D style body with the model 35 construction – Indian rosewood sides and 3-piece back. Ebony bridge.
Finish
Original nitrocellulose lacquer finish in pristine condition. Really – not a scratch or scuff.
Hardware/electronics
All original, Martin branded sealed tuners, original nut and saddle; no pickup.
Playability/Action
Plays very well, and you can tell it's a Martin.
Case
Original black molded Martin case.
---
You can preview our videos now on Our YouTube Channel!
You can now Visit our Facebook page!