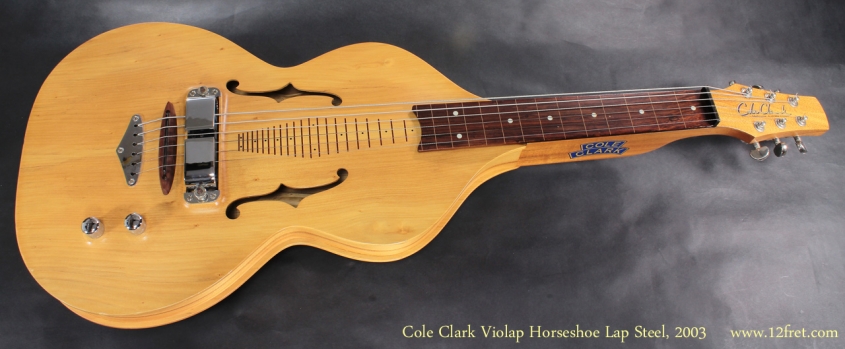 Here's a very cool 2003 Cole Clark Violap Horseshoe lap steel guitar.
This Violap features a horseshoe type pickup, so-called because the pickup magnet wraps around the coil (rather than being embedded in the coil). This unique pickup design dates back to early electric Rickenbacker instruments – from the 1930's – but this history has presented opportuntities for potential infringement. Consequently, current Cole Clark instruments use humbucking and piezo pickups.
The Cole Clark Violap features a Weissenborn – style body with square neck. Made primarily from Tasmanian Blackwood with carved top and back and carved bracing.
and a rosewood fingerboard. Grover Roto-Matic tuners are used at the headstock, with a Tusq nut and Bakelite saddle. A chrome tailpiece behind the bridge anchors the strings.
The Horseshoe pickup uses a fairly large single coil with six polepieces, and is surrounded by the wrap-around 'horseshoe' magnet. Volume and tone controls are on the top, and the output jack is found at the tail block.
Acoustically, this isn't an exceptionally loud instrument – that's what pickups are for! However, it does make the instrument appropriate for use in quieter situations.
This example is in very good condition with a unique tone.
Serial Number:5-03, built during 2003 in Melbourne, Australia
Pricing:$1,499 CAD with gig bag. SOLD
---
You can preview our videos now on Our YouTube Channel!
You can now Visit our Facebook page!