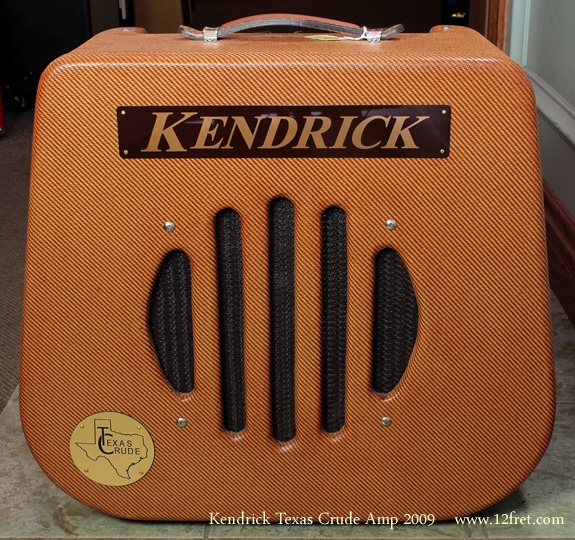 Here's a 2009 Kendrick Texas Crude Harp Amp in pristine condition.
Kendrick hand builds amplifiers in Kempner, Texas. The Texas Crude Harp Amp was introduced in 1993 to provide harmonica players with a solid, reliable, great sounding and loud amp. The design and construction have been unchanged since then.
The Texas Crude is 35 watts and is loaded with a Kendrick 12″ speaker.
Here's what Kendrick has to say about the Texas Crude Harp Amp:
"Texas Crude Series Harp Amp features the "Beaumont Style" trapezoidal cabinet.
This art deco design is known for enhancing bass frequency punch making it popular for blues harmonica players that want both tone and hip retro vibe.
All tube circuitry includes 2 12AX7 pre-amp tubes, 2 6L6 output tubes and a GZ34 rectifier tube. Point-to-point circuitry hand wired on brass eyeleted epoxy glass component board. Exclusive wave form symmetry control fattens tone while reducing feedback. Because this amp lacks the tendency to feedback, the volume control can be cranked to unbelievable levels.
Harp players, how many times have you been asked to turn down because you were dominating the mix? Well that's not enough!"
Serial Number: N/A, built during 2009 in Kempner, Texas, USA.
Pricing: $1,3999.99 with cover. SOLD
---
You can preview our videos now on Our YouTube Channel!
You can now Visit our Facebook page!