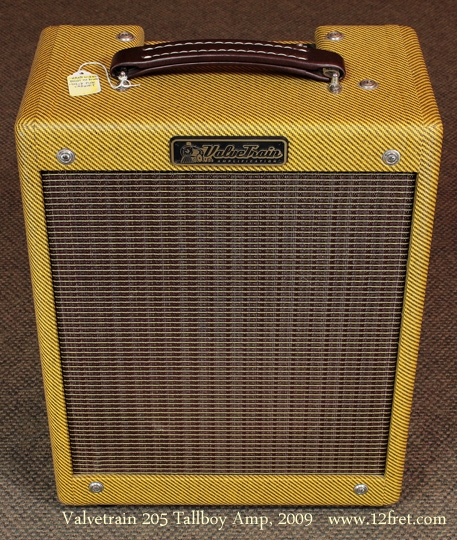 Here's a 2009 Tweed Valvetrain Tallboy 205, in ultra-clean condition.
The Valvetrain Tallboy 205 is a hand-wired 5-watt Class A tube amp based on the 1955 Fender Princeton 5F2A. It's pretty straightforward, with inputs, volume and tone controls, and a 12 inch Eminence Legend speaker.
The cabinet is solid pine with tweed covering and a leather handle.
The alumimum chassis carries point-to-point eyelet wiring, a 12AX7 preamp tube, a 6V6 power tube, and a 5Y3 rectifier. The transformers, as with the other components, are made in the USA.
It's quite loud, and does a great job with both guitars and harmonicas.
The ValveTrain 205 was also available with 2x 8 inch speakers and the Tallboy version has the 12 inch Eminence. The Tallboy version weighs about 20 pounds.
Serial Number: 070464
Pricing: $650 CAD
---
You can preview our videos now on Our YouTube Channel!
You can now Visit our Facebook page!