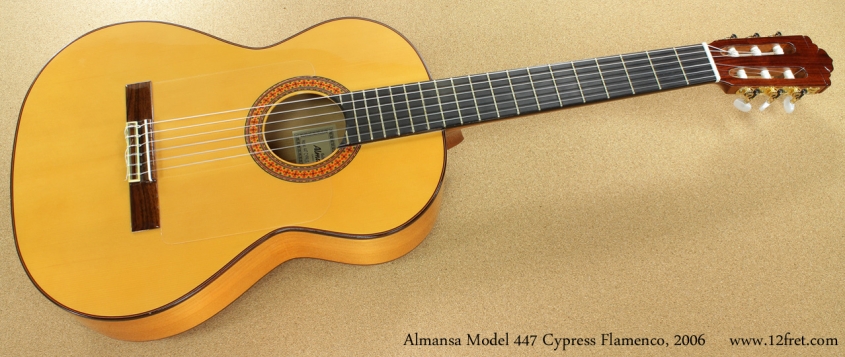 Comments
Spain has a long and rich history, and music is no small part of it. Flamenco comes to us from the Andalusian region, consisting of simultaneous song, dance and guitar. It carries many influences of Spain's folk history – Gypsy, Moorish, Jewish and Andalusian.

Flamenco guitars are now usually built to emphasise volume, brightness and percussive attack, and this means the use of lighter tops and bracing, and cypress for the back and sides. Originally, musicians and luthiers made no distinction between 'classical' and 'flamenco' guitars, but what did matter was the price, and cypress was used in lower-cost instruments. This reflects the history of the music – Flamenco is a folk style, and as has been the case for folk music at all times, its players were generally not members of the most well off classes.

In 1989, a group of craftsmen came together in the town of Muro de Alcoy and set up shop to build traditional instruments – classical and flamenco guitars, lutes and bandrurrias. They are now selling instruments onto five continents.

This Almansa 447 Cypress Flamenco guitar is in excellent condition. It has all the necessary features – spruce top, cypress back and sides, and golpe plates to protect the thin top from the style's distinctive percussive tapping. Typically, flamenco instruments are set up with quite low action for very fast playing, but most factory setups tend more towards the 'classical' heights. Typically, these setups are changed by simply lowering the saddle, which also promotes the slightly rattling sound of full-tilt flamenco playing.

Click here to visit the Almansa web page for this instrument

Serial Number
5010112, built during 2006 at the Almansa plant in the town of Muro de Alcoy, south of Valencia, Spain.
Pricing
$650.00 CAD with hardshell case. SOLD
Neck
Mahogany neck with unbound ebony fingerboard and rosewood head plate. 650mm scale length, 52mm nut width.
Frets
No appreciable wear.
Body
Solid German spruce top, solid cypress back and sides. Rosewood bridge.
Finish
Light clear gloss finish in excellent condition.
Hardware/electronics
Bone nut and saddle, gold plated tuners with pearlescent buttons. Golpe (tap) plates are already installed.
Playability/Action
Plays quite well, though currently set up more for a classical playing style.
Case
Black hardshell case included.
---
You can preview our videos now on Our YouTube Channel!
You can now Visit our Facebook page!