The Twelfth Fret is proud to announce that we are now an official Boucher Guitar dealer.
Norman Boucher founded Canada's first guitar manufacturing company in La Patrie Quebec in 1968 and began to built Dreadnought style guitars with "X" bracing patterns inspired by C.F. Martin. Norman's son Claude continued to build and research guitars after Norman Guitars Inc. closed its doors and sold its trade mark in 1988. In 2000 Claude decided to build high quality acoustic guitars with only the best materials including the famed Adirondack red spruce. He then began to stock raw materials and share his passion with his son Nicholas. Today Claude and his cousin Robin run Boucher Guitar Products Inc. building their guitars with three generations of family pride and heritage.
Boucher guitars use a controlled sound board aging environment where the unfinished tops are allowed to mature like a fine wine. Their acoustic chamber is filled with music 24 hours a day that surrounds the suspended wood. The tops absorb and vibrate with the resonance allowing the Adirondack spruce to mature and become more sensitive. This translates into excellent projection and dynamics with a more open and slightly played in sound.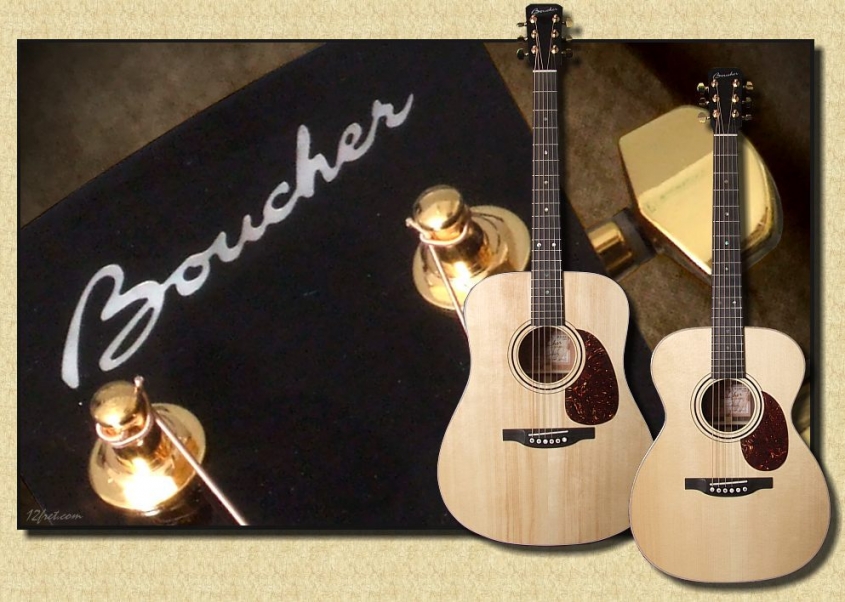 The Native Goose dreadnought is part of the Genuine series of guitars and features a AA grade Adirondack red spruce top and African Khaya mahogany sides and back. The tortoise body binding and rosette give this dreadnought a great classic look to go along with a full and crisp tone, huge dynamic range and tones of volume and projection. This is a great guitar for aggressive strumming and flat picking styles and will cut through in a mix or live situation.
The Wild Goose dreadnought shares many of the same features as the Native Goose including the AA grade Adirondack red spruce top and braces. However, this guitar utilizes East Indian rosewood for its tone woods on the sides and back and the body is bound with a beautiful flamed maple. The tone of this guitar is slightly darker with a bit more emphasis on the bass and treble frequencies. This dreadnought also possesses a large dynamic range and is well suited to heavy strumming and flat picking with its large volume and excellent projection.
The Genuine series Wild Goose OM also features a AA grade Adirondack red spruce top, an Indian rosewood sides and back with a beautiful flamed maple binding and back strip. This guitar is geared more towards light to medium strumming and fingerstyle playing with its soft "V" neck profile, 1 3/4″ nut width and small body. The Adirondack top and Indian rosewood sides and back provide a lovely sparkle in the treble frequencies, deep bass with nice overtone complexity and slightly scooped midrange. While this guitar is mostly suited to more subtle playing styles the, Adirondack top does allow you to dig in with a bit more aggressive right hand attack and produce more tone and volume then the average OM with a Sitka spruce top.
It is easy to see and hear the quality of craftsmanship and passion put into both of these excellent instruments!!
Mike Gray