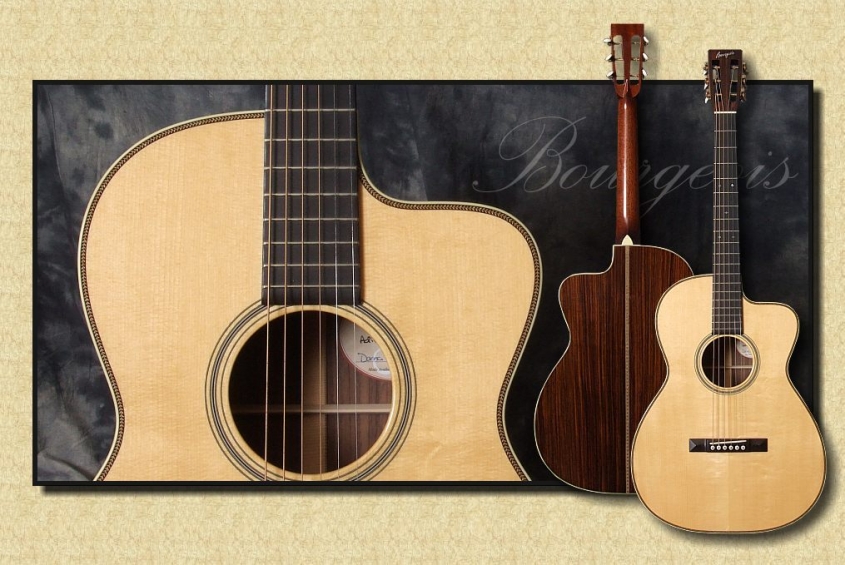 Today we are featuring the exquisitely comfortable and tonally impeccable OMSC model from the workshop of master luthier Dana Bourgeois. Based upon the classic 12 fret 000 body size this instrument retains the important elements of that classic design while adding an appealing venetian cutaway, tons and tons of tone and all of the quality craftsmanship we have come to know and love from Bourgeois guitars!
This guitar features an Adirondack red spruce top with a custom herringbone top marquetry, Indian rosewood sides and back, ebony fingerboard and pyramid bridge, and a 12 fret to body mahogany neck with a slotted head stock. All of these classic looking appointments are augmented by the wonderful venetian cutaway. Often small bodied guitar look a little out of place with a cutaway but Dana has found a way to not only give us access to the upper frets but add to the overall visual rather than distract from it.
The smaller body size and low profile neck shape make this guitar a joy to sit down with and play. It comfortably tucks into your lap and makes playing seem effortless. Aside from the comfort levels smaller bodied guitars are often used in a recording setting due to their well balanced tone and not having to deal with the boomy bass of larger guitars. This guitar does just that and more. The bass and midrange are rich and throaty and the trebles have a bright and silky quality which creates an excellent balance with a larger overall presence that is sure to please in an acoustic performance situation!
Check out the audio sample by Dave Martin and hear it for yourself!
Specifications
* 1 3/4″ wide bone nut
* ebony fingerboard (ebony bound)
* 25 1/2″ scale length
* 12 fret neck joint
* mother-of-pearl diamonds & square
fingerboard markers
* precision Waverly/Sloane tuners
* slotted headstock
* low friction matte neck finish
* Adirondack spruce top
* 15 1/8″ lower bout dimension
* 4 1/4″ deep sides at end pin
* Custom herringbone top marquetry
* premium Indian rosewood back & sides
* burnished ebony pyramid bridge
* 2 5/16″ string spacing at bridge
* high density Ivoroid bridge pins
* deluxe hardshell case