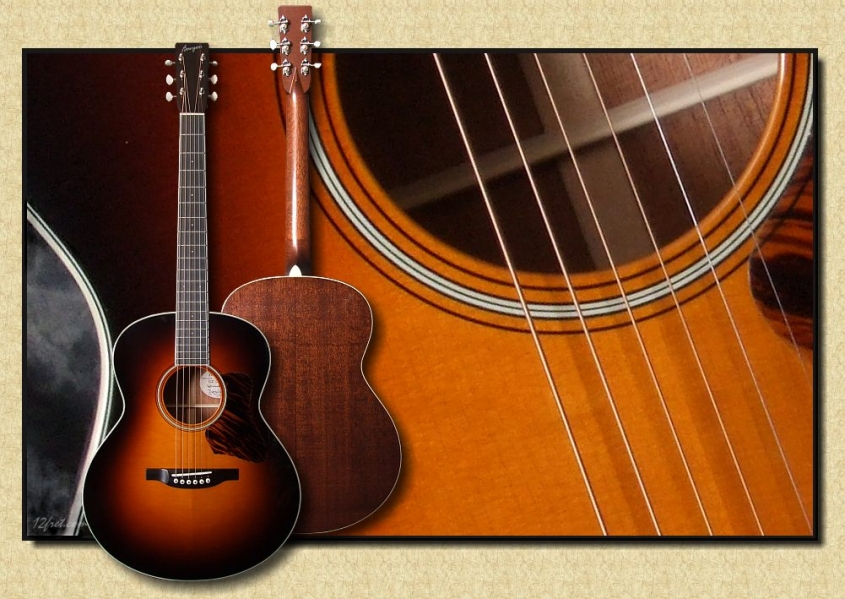 There are many guitars that employ a smaller curvy body size, like a Jumbo that was put in the drier for too long. The idea is to get a more comfortable and manageable body size but still retain a lot of the power and tonal depth that you get from a larger instrument. However, few guitar actually achieve this feat. The Bourgeois Small Jumbo takes this idea and hits one right out of the park!
Featuring a Eastern Red Adirondack spruce top and mahogany sides and back on a 15 1/2″ lower bout and 4 1/2″ depth body this guitar has got tone! The Adirondack top provides a strong and crisp note fundamental with lots of sustain and headroom and the mahogany sweetens the tonal spectrum with its midrange bloom. The bass response is strong but not overly dark and there is great emphasis on the lower midrange which provides a meaty feel to strummed chords and fingerstyle playing.
The vintage looking sunburst top and tiger strip pickguard give this guitar a simple classic vibe which is beautifully framed with ivoroid binding. The small and curvy body size, 25″ scale length and medium elliptical neck profile make this guitar feel so comfortable that I could hardly put it down long enough to right this! As a matter of fact I think the guitar is calling me right now….
Mike Gray
Specifications
* Small Jumbo body
* 15 1/2″ lower bout
* 4 1/2″ depth
* Eastern Red Adirondack Spruce top
* Mahogany sides and back
* Ivoroid body binding
* Mahogany neck
* Ebony fretboard
* 25″ scale length
* 1 23/32 polished bone nut
* Ivoroid fretboard and headstock binding
* Ebony belly bridge
*Ivoroid bridge pins
*Sunburst top finish
* Tiger strip pickguard
* Nickle plated Waverly tuners with ivoroid buttons
* Hardshell case