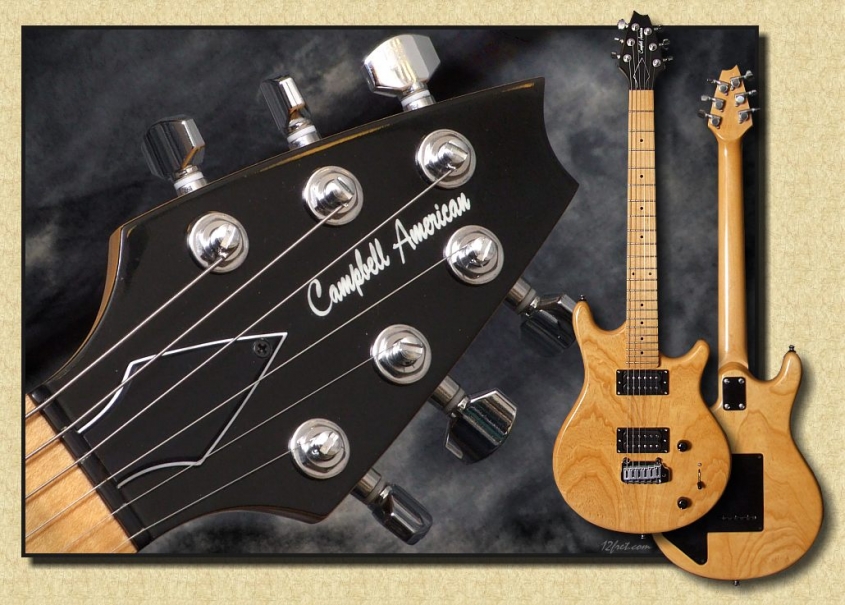 SOLD
$1550 w/case
It isn't often that a guitarist gets to be given a "Carte Blanche" on design and building a guitar. This is exactly what happened in the case on this fine specimen…after Dean won the Floyd Rose debate. Owner Dean Campbell and I went back and forth until we came up with this winning combination of features and aesthetics.
We started with the Ash body. I was looking for something light and resonant. Fond sentiments and sprinkles of awe where reminisced over the very first Van Halen album about the basic tone of his original White and Black Frankenstein guitar. Now that the body was in play, we had some heated (…and very light-hearted) debates about the neck profile. We wanted to combine the best of both worlds in a classic feeling and looking neck with the hot-rodded shredder sensibility. You can just guess who was playing for what team. Dean and his crew outdid themselves with this neck…the neck feels like a weapon and is adorned with the best fret job that I've ever seen.
Next came the electronics complete with a 5 way switch for coil-tapping. Year ago I discovered the DiMarzio Tone Zone and it has since become the cornerstone in my choice of bridge pick-ups for a guitar. Think of a classic PAF served up with a voodoo hot sauce from the Delta and add a dash more crunch for good effect. For the neck we chose a Dimarzio PAF. It was the neck pickup in my first Gibson Les Paul goldtop reissue that my dad (R.I.P. Tough guy!) had helped me put it in along with a Super Distortion in the bridge. There is some serious history there with that pick-up line. Rounding out the guitar are a set of Gotoh Locking machine heads and a killer Hipshot trem that defies you to even think about knocking the guitar out of tune.
The fact of the matter is anyone can take these fine parts and put a great guitar together but it takes Dean Campbell and his crew of merry men (Shout out too Charlie, the electronics guru) to create a unique, high quality tone machine like this. If my wife Heather weren't watching me like a hawk at the moment, I would bring this sexy beast home with me. Let's see….hmmmmm…only X number of years left on the mortgage….then there's the electricity bill…..Nathan's graduation gift….Olivia's wedding. Some how and someway, this guitar will be mine…or a reasonable facsimile if one of you out there reading this decides to buy it. ***SIGH***
Mike McAvan
Specifications
* Swamp Ash body
* Maple neck with light gloss fingerboard and jumbo frets
* Dimarzio Tone Zone/PAF humbuckers
* Coil Splitter
* Gotoh Locking Tuners
* Hipshot Tremolo
* Vintage Amber Tint
* Gloss Nitro Cellulose Finish