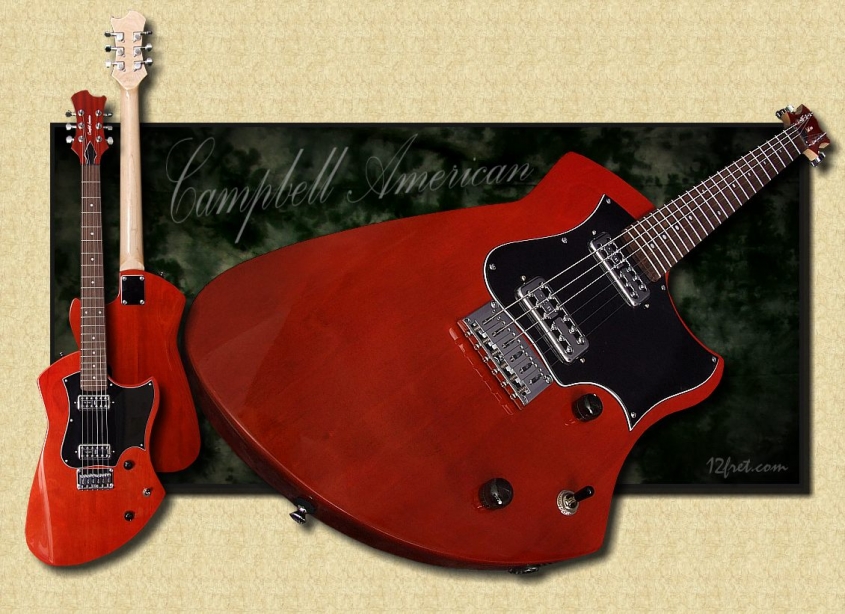 SOLD
$1599 w/ case
I have a very clear memory of the first time I held a Campbell American guitar in my hands. It was a double cutaway solid body with a flat black finish and a bolt-on maple neck. For such a basic design, it looked surprisingly cool. There was something very elegant about the simplicity of it all. Then I played it, and all thoughts of "simplicity" got burned away. The guitar played like an absolute dream. The neck was beautifully carved. The fretwork was impeccable. The body was lightweight and well contoured. The hardware and electronics were all top notch. Never before had I played a guitar that relied so little on flashy looks, yet was able to completely blow me away.
This guitar had no fancy inlay, no flame maple top, no body binding. But man, did it have it where it counts!
With this in mind, it's safe to say I now get more than a little excited anytime we receive a shipment from Campbell American Guitars. Today we are proud to feature yet another world class design: The Transitone.
A quick read down the specification list will give anyone with a trained eye an idea of what to expect from this instrument. The Honduran Mahogany body gives the guitar a nice sustain and sweet midrange. The TV Jones pickups have a little more 'twang' than your average humbucker, giving the guitar a chimey bite on the treble side. Pull up the tone pot to engage the coil splitter, and you move into the world of true single-coil clarity and attack. The Gotoh adjustable bridge and 15:1 tuners are rock solid. And then there's the neck…. I could go on and on about how much I love this neck, but it would probably be faster for you to come down to the store and try it for yourself. I really can't say enough about the comfort of the low "C" profile, the smooth gloss finish, and the rounded fingerboard edge.
I'm going to pull myself away now, otherwise I'll be here writing about this guitar all day. There is no doubt in my mind that Campbell American Guitars are some of the finest instruments being built today. For anyone in the market for a pro level electric guitar, the Transitone is a "must see".
Specifications
* Bolt-on Maple neck
* Rosewood Fingerboard
* 22 medium-jumbo frets
* Soft "C" low profile neck
* Honduran Mahogany body
* Nitro Cellulose Lacquer Finish
* 25 1/2″ scale length
* Gotoh adjustable bridge
* Gotoh 15:1 ratio tuners
* TV Jones humbucking pickups (Bridge & Neck)
* Master Volume control
* Master Tone control with push/pull coil tap
* 3-way pickup selector switch
* 7.4 lbs total weight