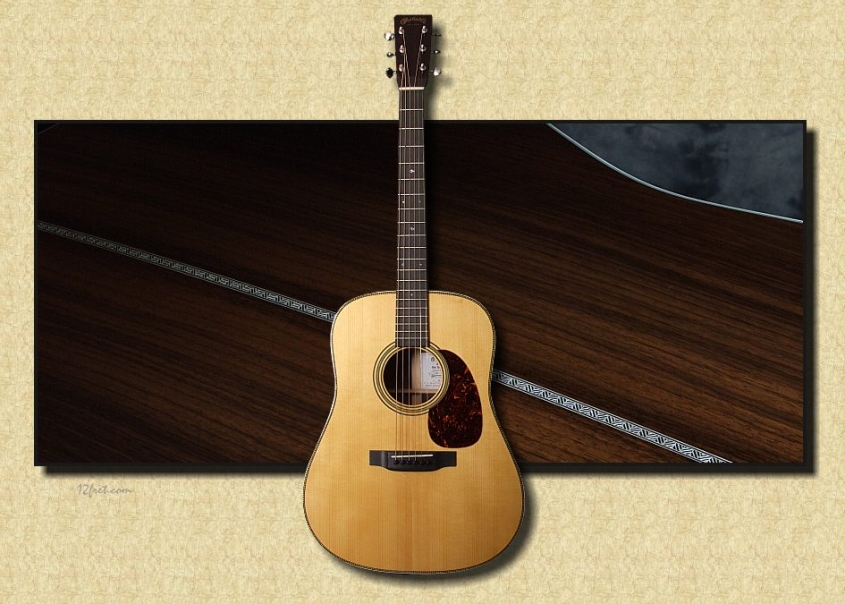 Bluegrass composer, vocalist and instrumentalist Dan Tyminski is probably best known for his Grammy winning version of "Man of Constant Sorrow" from the movie "Oh Brother, Where Art Thou?". He is also a member of the band Alison Krauss and Union Station and has won 10 Grammy awards for solo and collaborative projects. So what does a multiple Grammy award winning bluegrass player want from a guitar? How about a big loud dreadnought with tons of headroom and warm rich overtones. Sounds good to me!
This D28 style guitar features an Adirondack spruce top and rear shifted standard X scalloped (Golden Era Style) Adirondack braces. This gives the guitar strong note fundamental with a sweetness in the midrange and the ability to drive the top hard and continue to hear it louder and louder without losing clarity. The high volume ceiling and dynamic range make this an ideal tone wood for aggressive players. The Indian rosewood sides and back add a tight bass response, clarity and definition with a warm complex set of overtones. This guitar lives and breathes for big strumming and aggressive flat picking but I was suprised by how well it handled the nuances of fingerstyle playing!
The herringbone trim and Golden Era style long pattern diamond and square inlays have a great classic look that perfectly accentuates the wood sets. The guitar also features Waverly nickel tuners with oval buttons, a tortoise pickguard and HD Zig-Zag back purfling. The mahogany neck has a comfortable modified V neck profile with a satin finish and feels very smooth as you move up and down the neck. With all these great features and positively huge tone it is very hard to be in "Constant Sorrow" while your playing this guitar!!
Specifications
* 14 Fret Dreadnought
* Adirondack spruce top
* Indian rosewood sides and back
* Adirondack braces 5/16″
* Standard X scalloped (Golden Era Style), rear shifted braces
* Bold Herringbone top inlay
* HD Zig-Zag back purfling
* Mahogany neck
* Modified V neck profile
* Ebony fretboard
* 25.4″ scale length
* 1 11/16″ bone nut
* Diamonds and square long pattern Golden Era inlay
* Tortoise pickguard
* Satin neck finish
* Ebony belly bridge
* Compensated bone saddle
* Waverly nickle open geared tuners with oval buttons
* Gieb case