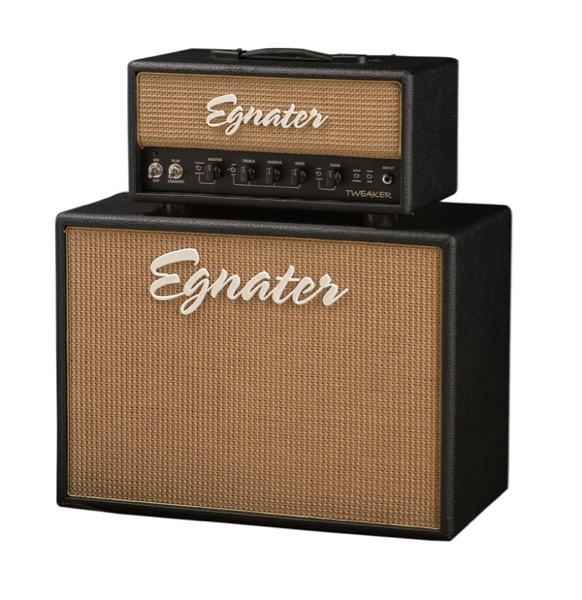 Please Note!   We no longer carry Egnater amplifiers.
This post is maintained for historical and reference purposes.
Please ask us about other amplifiers we carry.
---
The Egnater Tweaker is a 15 Watt tube amp, available as a head or 1×12 combo, and it has taken the world by storm. The beauty of this amp lies in its simplicity: a single channel design with Bass, Middle, Treble, Gain, and Volume controls. Look a little closer however, and the Tweaker offers a world of tonal customizations…. all of it useful.
A 3-position voicing switch lets you choose between "US", "AC", and "Brit" settings. This is not digital modeling. Rather, it is an EQ shaping filter that does an amazingly convincing job of transforming the Tweaker from a Fender style amp to a Vox, Marshall, and back again. A low gain/high gain switch lets you set the range of your gain control. This leads to a nice feeling sweep as you slowly turn up the dial, allowing the Tweaker to produce an incredibly wide range of distorted tones without ever feeling too "twitchy" on the controls. Bright/Normal and Tight/Deep switches allow quick tonal reshaping without fiddling with your EQ dials; ideal for those mid-set guitar swaps.
Also check out our article detailing the popular EL34 Mod!
SPECIFICATIONS
Output Power:
Input Impedance:
Output Impedance:
Effects Loop Send Impedance:
Effects Loop Return Impedance:
THD:
Tubes:

Switches
Vintage/Modern:

USA/AC/Brit:
Clean/Hot Switch:
Tight Switch:
Bright Switch:
Dimensions:

15watts RMS Cathode Biased
1meg Ohm
4 Ohms, 8 Ohms Or 16 Ohms Switch Selectable
600 Ohms
220k Ohms
5% At Rated Output
Three Egnater Premium Selected 12AX7Matched Pair Of Selected 6V6GTA

+4db @ 120hz
+4db @ 3.6KHz
Selects American, V-X, British Tone Stack
+9db Gain Boost
-6db @ 180hz
+8db @ 4khz Max
14" (L) X 8.25" (W) X 6.75" (H)
---
You can preview our videos now on Our YouTube Channel!
You can now Visit our Facebook page!