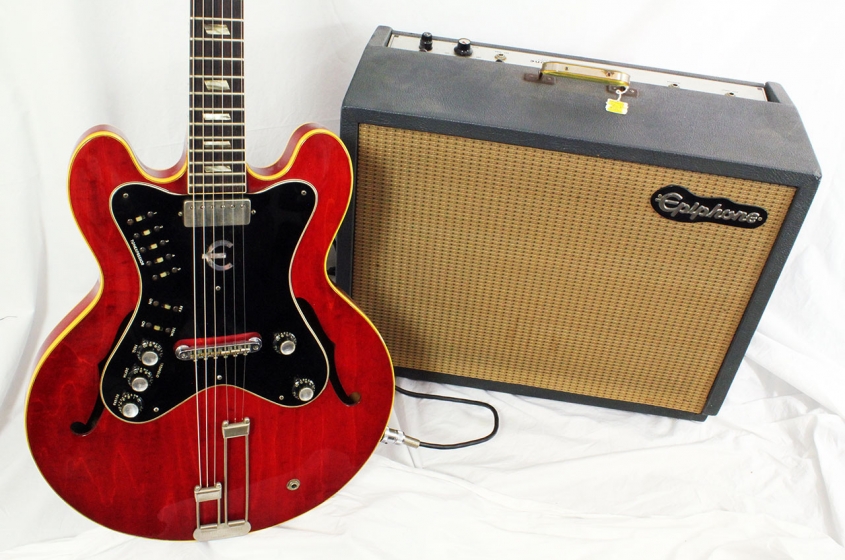 Serial Number
Guitar serial 112752, EA-7P amp serial 555195; built 1963
Pricing
$2599 CND, with case and amplifier model EA-7P SOLD
Neck
Mahogany neck with bound rosewood finbgerboard. Old-style Epiphone headstock.
Frets
Hardly any wear,
Body
Maple laminate body, bound top and back. Solid block through the body center. The body style is very similar to the Sheraton, which is also very similar to the Gibson ES-2225/345/355 design.
Finish
Original, Translucent Cherry Red nitrocellulose lacquer finish in good shape – 9/10 condition.
Hardware/electronics
All amp controls can be operated from the guitar, by way of the switches and knobs on the 'bat-wing' pickguard.

The amp can be used as a standalone, but has no controls for volume, tone, reverb or tremolo; these controls are all on the guitar.

The guitar has both standard and custom output jacks, and the standard jack provides and easy option for two-channel mono. The custom jack uses a 5-pin Amphenol connector, with the cable tethered to the amp.

The guitar has one pickup, a standard and original 1963 Epiphone mini-humbucker as found on Sheratons. Nickel tune-a-matic and Frequensator tailpiece. Kluson Deluxe tuners.

Playability/Action
Just a couple of years after this guitar was built, the action would be described as 'fab'. it plays very well and cleanly.
Case
Period Gibson case included.
Comments
The Epiphone Professional Guitar and Amp from 1963 was built around the time when lots of guitar instrumental albums were being released by people like Al Caiola. This was an attempt by Epiphone to address the needs of serious professional players, just pre-British Invasion, at which point everything changed.

Many of the amp functions controlled by the guitar subsequently moved into pedals and racks of outboard gear

This model was introduced in 1962, and discontinued in 1967.
---
You can preview our videos now on Our YouTube Channel!
You can now Visit our Facebook page!