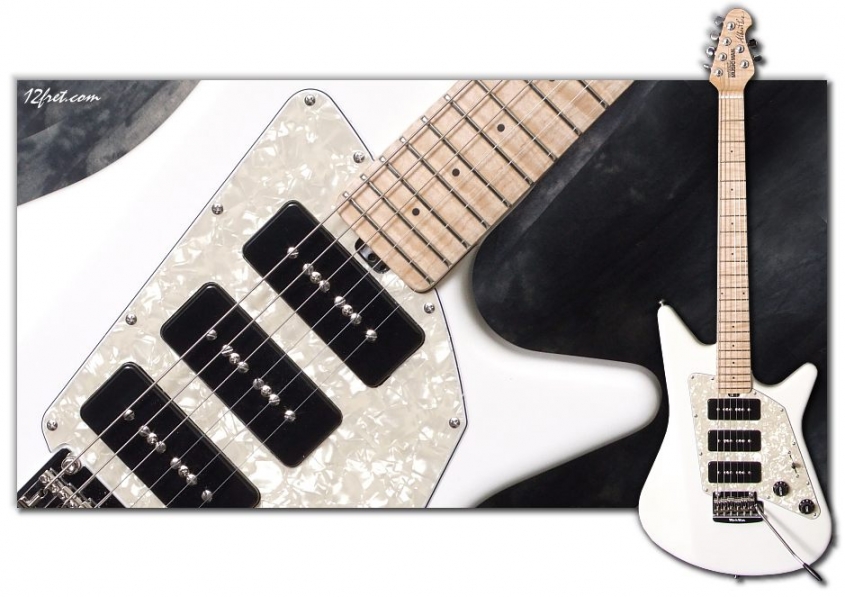 Music Man guitars are known for being comfortable to play, but they also happen to be some of the most well constructed, precision made instruments in the world. I am continuously impressed by the level of quality that can be found in all aspects of their guitars.
Excellent pickups and hardware, beautiful wood selection, and some of the most well carved necks available. Just look at the fret work on these things! Absolutely flawless.
The Albert Lee signature model is as elegant as it is versatile. The ash body/maple neck combination produces a sharp, articulate tone with plenty of snap on the high end and a nice thick 'bark' on the lower registers.
Albert Lee's signature body shape is visually striking, while contoured for maximum comfort. The P90 version of the Albert Lee uses 3 custom wound Seymour Duncan MM90 single coil pickups with a 5-position selector switch. This electronic configuration gives the guitar a tonal range not unlike a Stratocaster, but with a slightly thicker, deeper sound. Works for me!
– Nevin Douglas
Model: Albert Lee
Size: 12-11/16″ wide, 1-3/4″ thick, 36-9/16″ long (32.2 cm wide, 4.5 cm thick, 92.7 cm long)
Weight: 6 lbs, 5 oz (2.86 kg) – varies slightly; 7 oz (0.2 kg) more with tremolo
Body Wood: Southern Ash
Body Finish: High gloss polyester
Bridge: Standard – Music Man® strings-thru-the-body bridge of chrome plated, hardened steel with vintage steel saddles; Optional – Music Man® vintage tremolo of chrome plated, hardened steel with bent steel saddles; Optional – Piezo bridge with solid steel saddles
Pickguard: Standard – Black or White; Optional – Shell, White Pearloid, Vintage White Pearloid, or Black Pearloid.
Scale Length: 25-1/2″ (64.8 cm)
Neck Radius: 10″ (25.4 cm)
Headstock Size: Only 5-7/8″ (14.9 cm) long
Frets: 22 – High profile, medium width
Neck Width: 1-5/8″ (41.3 mm) at nut, 2-1/4″ (56.9 mm) at last fret
Neck Wood: Select maple neck
Fingerboard: Select maple
Neck Finish: Gunstock oil and hand-rubbed special wax blend
Neck Colors: Standard – Natural; Optional – Matching painted headstock
Tuning Machines: Schaller M6-IND locking
Truss Rod: Adjustable – no component or string removal
Neck Attachment: 5 bolts – perfect alignment with no shifting; Sculpted neck joint allows smooth access to higher frets
Electronic Shielding: Graphite acrylic resin coated body cavity and aluminum lined pickguard
Controls: 250kohm volume and tone – .047µF tone capacitor
Switching: 5-way lever pickup selector; Piezo volume (when applicable)
Pickups: SSS – 3 Seymour Duncan custom wound single coil; MM90 – 3 Music Man® MM90 vintage style
Left Handed: No
Strings: 10p-13p-16p-26w-36w-46w (Custom RPS Slinkys)
In Red:

For more details or to purchase one of these instruments, contact us here.
---
You can preview our videos now on Our YouTube Channel!
You can now Visit our Facebook page!