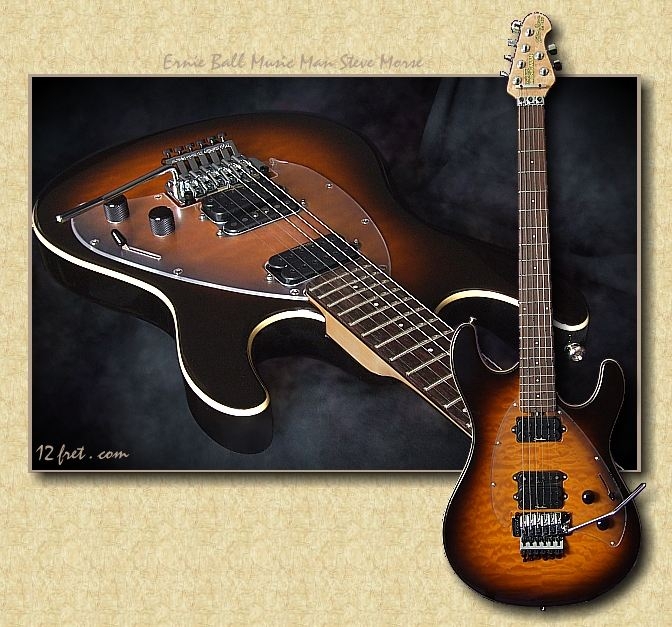 Steve Morse is a six time Grammy nominated guitarist. He is renowned for his diverse playing style that mixes rock, jazz, classical, and country. Morse first achieved acclaim with The Dixie Dregs, who recently finished recording their eighth album. In addition, Steve has six solo albums. He is also a member of Deep Purple.
Morse belongs to Guitar Player magazine's prestigious "Gallery of the Greats" after having been voted "Best Overall Guitarist" for five consecutive years by the magazine's readers!
This SM-Y2D model from Ernie Ball Music Man is a refined version of the original Steve Morse Signature model that features custom DiMarzio pickups, a Music Man/ Floyd Rose locking tremolo system, the 5 bolt no-shift neck joint, a clear pickguard over a beautiful quilted maple cap … and of course the beeeeeautiful feeling Music Man neck with their special oil/wax blend!!!
Specifications
SM-Y2D Steve Morse
* 1 5/8″ wide locking nut
* rosewood fingerboard
* Birdseye maple neck
* Schaller M6 tuners
* 25.5″ scale length
* 5 bolt no-shift neck attachment
* low friction oil/wax formula neck finish
* light weight poplar body with quilted maple cap
* bound maple cap
* Music Man/Floyd Rose locking trem
* Steve Morse Signature DiMarzio pickups
* clear pickguard
* gloss body finish
* hardshell case