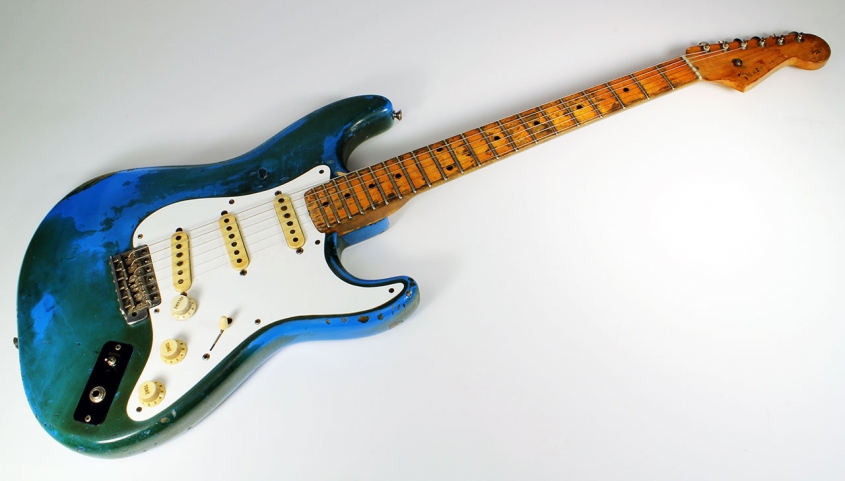 Serial Number
09398
Pricing
$7999.99 CDN with case

SOLD



Neck
Maple neck, refretted, dated March of 1956 and built by XA – Xavier Armenta.
Frets
Refretted with jumbo fretwire years ago.
Body
1962 body
Finish
Lacquer finish; body is blue (and now somewhat greenish) with wear from being used for many years.
Hardware/electronics
Original 1962 pickups and wiring harness, except for volume pot. Original bridge and tuners. The guitar is also equipped with an original Alembic StratoBlaster.
Playability/Action
Plays well and sounds fantastic.
Case
Original style shaped, reproduction case included.
Comments
This beautiful Strat was John Bride's main guitar for many years. He assembled it in 1979 from a '56 that had a great neck but no tremolo body, and a great sounding '62 trem body. The neck dates from 1956 and was built by Xavier Armenta, famed for his work at Fender. The decals are original, and the pickups and wiring harness are original 1962 except for the volume pot.

This guitar was with John for hundreds of gigs with the Cameo Blues Band and the Partland brothers, and is in the video for the Partland's 'Soul City'.

On tour, John played it all over the USA and Canada opening ofr the Moody Blues, the Beach Boys and others, and it was on the US network "The Arsenio Hall Show". And on the back is an Albert Lee autograph.

This is a rare chance to own a fantastic sounding vintage instrument that has contrbuted to the Toronto music scene for many years.
---
You can preview our videos now on Our YouTube Channel!
You can now Visit our Facebook page!