Please Note!  All the instruments listed here are now SOLD, except for the regularly stocked new Deering Goodtime Special.
Summer is here and banjo music is in the air! Here are five Bluegrass Banjos under One Thousand Dollars.
I'm always in short supply for good, playable, used banjos in the under $1000 price range but some nice trade-in banjos came in this week.
All 5 banjos below are ideal for the intermediate player who wants a good sounding banjo but is not ready to move up to a professional instrument.
1) GoldStar GF 85 with case, both mint: $839.00 CAD SOLD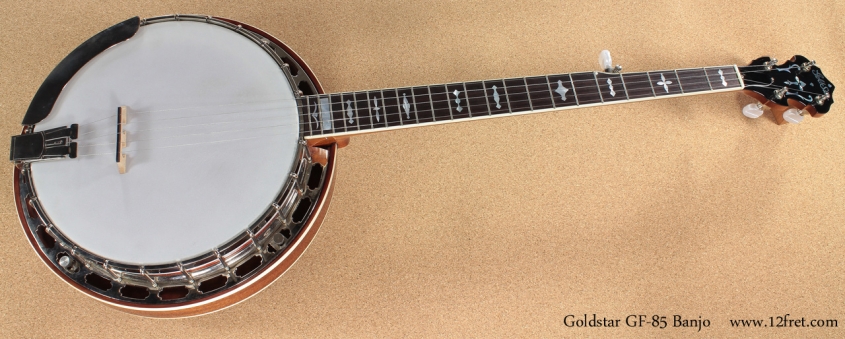 When Béla Fleck played his GoldStar banjo 30 years ago, everybody took notice. About 10 years ago GoldStar banjos were reissued and were an instant hit. GoldStar has it's own workshop. Quality of woods, joinery, hardware, fit and finish are certainly the highest I've seen in Chinese construction. All nitro lacquer, historically accurate 3 ply maple rim, authentic nickel hardware and a superb bronze tone ring.
This GF-85 model is essentially a Gibson Mastertone replica banjo: Gibson RB-250 mahogany knockoff with bow tie inlay. Often these replica banjos are nicknamed "MasterClone" banjos.
Due to large price increases on GoldStar banjos in late 2012, these banjos are now nearly impossible to find.
this banjo came in virtually unplayed: I did a very light fret level and polish, full setup and head tension at G#. It sounds and plays great.
The Goldstar GF 85:

2)Recording King RK 80 banjo with case $749.00 CAD SOLD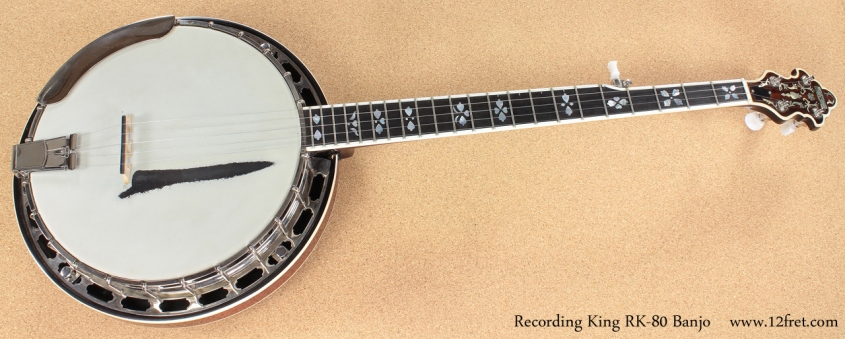 This banjo was heavily used, with hundreds and possibly thousands of hours of playing time on it. Frets were well worn but I have done a full fret dress, setup, recut nut, capo tacks and installed a new 5th string tuner.
The banjo now plays as new and has many years of playing left in it before a refret would be needed.
The nicely bursted Nitro-lacquer finish has no chips or finish dings but it does show lots of minor wear and tear and there is tarnish on the nickel hardware; "Honest wear" and patina typical of a banjo that has been well used but not abused.
The head is nicely worn. Many players prefer the worn "broken in" look on the head so I have decided to leave it as is. If you wish, I will install a new Weatherking head and re-setup for $80 extra.
Recording King banjos used nicely figured maple throughout and fitted with Gibson-style Flathead tone ring they have a voice similar to a Gibson Earl Scruggs maple banjo.
The case is the standard "Canadian" hardshell case with medium wear.
The Recording King RK 80:

3)Recording King RK-R-85-A Soloist Model; Mint condition with deluxe Recording King case $999.00 CAD  SOLD


A Lovely figured maple banjo finished in Nitro Lacquer with attractive inlay package.
This is the first and only Recording King banjo that I've seen that was fitted with an archtop tone ring. It came to me in virtually brand-new condition as a trade in on a new Stelling banjo. As is my usual habit with all Recording King banjos, I did a light fret dress to ensure the frets were properly levelled, then a full setup, head tension and new strings; plays beautifully.
Gibson Mastertone banjos commonly used archtop tone rings in the post-war era. They were phased out in the mid 1960s as Flathead tone rings became the norm. If you have never played an archtop banjo they are an interesting instrument. The head overall diameter remains 11″ but the raised portion of the ring reduces the main vibrating surface to 9″ which really tightens up the bass and sharpens the trebles. Opinions vary of course but I find that when one hears one with a true pre-war style calfskin head on an archtop one realizes why they were considered the best of the best and associated with the top models of that period.
What is the tone of an archtop tone ring and how does it compare to a flathead tone ring: To my ears: for a hard, aggressive right hand player, the archtop head is harsh and thin sounding. But for a light to medium player, the trebles are really sweet and complex; so archtop rings are ideal for a lighter right hand technique player. ( Note: this is only my opinion and I will deny having made this statement in any court of law !! )
The Recording King RK-85 A Soloist:

4)GoldTone OB-275 banjo with deluxe GoldTone case. We have these brand new banjos on special, $100 off the regular price of $1089 – this month at $989.00 CAD.  SOLD


The OB 275 (formerly the OB 175) is one of THE best MasterClone new "offshore" built maple banjos out there. Wayne Rogers, president of GoldTone, recently returned to using a foundry in Korea that he used in the past because they were willing to replicate an old Bronze alloy formula and custom cast tone rings specifically for his banjos. This tone ring arguably puts this banjo into the league of many of the top professional banjos made. GoldTone does all of their final assembly and setup I their Titusville Florida workshop so quality control is superb. The Classic Mastertone Bow-tie inlay gives this banjo that historic look.
Interestingly, the OB-275 is a maple neck banjo but fitted with a mahogany resonator tinted to match the neck. This is a trick used on the highly respected Huber Kalamazoo model banjo; the logic being that the warmth from the mahogany resonator slightly offsets the treble edge one gets from the maple neck: effectively half way between the woody warmth of mahogany and the edgy snap of maple. Neat idea and a great sounding banjo.
All of our new banjos come with full setup: head tension at G# , action height of 5/64, nut and truss rod adjusted plus a very thorough check over and capo tacks installed no charge.
The Gold Tone OB-175 and OB-275:

5) Deering Goodtime Special, without case: $649
Optional Canadian hardshell case at $99 or Deering Deluxe gig bag at $69.50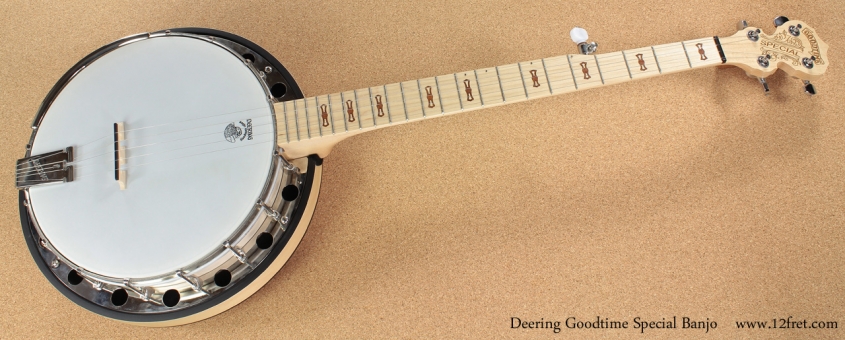 Deering Goodtime banjos have always sounded great but recently huge improvements were made: as Deering makes changes to their professional line of banjos, these changes trickle down to the Goodtime line and the tonal benefits are huge.
Two big changes in the Special model are the rim and tone ring. Players often ignore the importance of the rim when shopping for a banjo; granted the tone ring is important but rim is of almost equal importance to the final tone ( and couple that to the flange, tension hoop and overall setup for the final tonal results).
Greg Deering in consultation with Jens Kruger developed the Tenbrooks Banjo line, their top professional banjos. Part of this project involved creating a new rim to marry to the superb Swiss Ruetschi Bell foundry tone rings. This thicker and more massive maple rim was a huge success. The design was modified and adapted to replace the long-standing laminate maple rim used on the Goodtime banjos.
Then another pet project of Greg Deering was for a special banjo to celebrate Deering's 35th anniversary.
This project gave birth to the Eagle 11 tone ring.
The bell brass Eagle tone ring concept was modified to be built out of steel so it could be adapted to the new maple Goodtime rim: and the new Goodtime Special model was born.
The Goodtime Special is superb sounding banjo done in a plain and simple package to keep the price down; excellent balance and tone right up the neck: easily matching many of the professional models on the market.
For more information on the Goodtime Special Banjo Click Here
The Deering Goodtime Special:

---
You can preview our videos now on Our YouTube Channel!
You can now Visit our Facebook page!