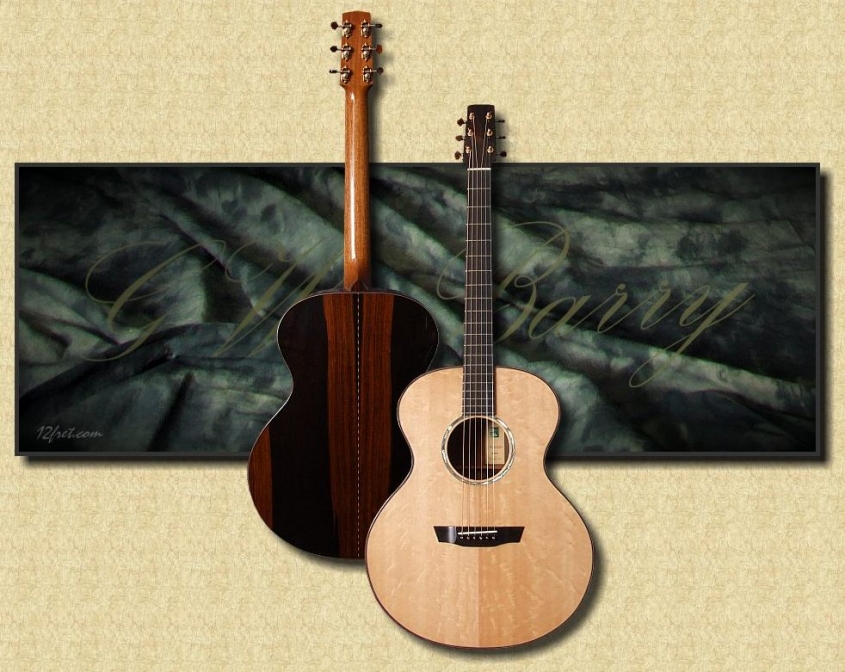 Sometimes you pick up a guitar, strum one chord and everything just feels and sounds right! The new Concert model Brazilian rosewood guitar from G.W. Barry is certainly one of those guitars! With over 30 years of building experience Mr. Barry has set his instruments apart from most of his competition through the beautiful clean lines on his designs and an impeccable attention to detail both sonically and visually.
The concert model guitar is a large bodied instrument which remains very comfortable due to the curvaceous lower bout and is defined by a punchy bass response and clear shimmering trebles. This concert model features a wonderful Bearclaw Sitka spruce top and jaw dropping set of reserve grade Brazilian rosewood on the sides and back. This Brazilian set has very dark almost ebony like stripes which frame the chocolate brown grain lines in the center of the back and is accentuated by a tasty but simple back strip. The body binding is Snake wood which has a lighter orange brown coloring and adds a bit of flair without distracting from the grain lines of the Bearclaw top or the Brazilian back. Matching Snakewood bridge pins and tuner buttons on the gold Waverly tuners are a great touch and really help to punctuate the overall look of the guitar.
The three things I look for in a guitar (besides great looks!) are clarity, complexity and comfort and this guitar has them all. There is a distinct warmth and clarity to the bass which you can feel resonate right through to your chest when you hit a low note or strum a chord. The mid range is soft and delicate yet still cuts through and the trebles are crisp and silky, never harsh with a solid note fundamental. This is an extremely responsive guitar which can handle finger picking, strumming and hybrid picking styles with ease and has a lovely set of complex overtones where you hear something new every time you play it. In addition to all of this sonic bliss this guitar is just down right fun to play with a super smooth neck profile and curvy waist and lower bout that make the guitar feel smaller than it is.
If I had to try and sum up this guitar in one word it would be: inspiring!!! Hats off to G.W. Barry for his latest example of superior craftsmanship!!!
Sound sample by Dave Martin
FOR MORE INFORMATION ON GW BARRY GUITARS, INCLUDING PRICING, CLICK HERE.
Specifications
G.W. Barry Concert : Bearclaw Sitka & Reserve Grade Brazilian Rosewood
* 1 3/4″ wide bone nut
* radiused ebony fingerboard
* ebony fingerboard binding with side dots
* 65 cm (approx. 25.5″) scale length
* Brazilian rosewood peghead overlay
* one piece tropical mahogany neck
* hand fit dovetail with bolt
* medium elliptical neck profile
* adjustable truss rod
* Gold Waverly tuners with Snakewood buttons
* Bearclaw Sitka spruce top
* Adirondack spruce top bracing
* dramatically striped Brazilian rosewood back & sides
* Snake wood body binding
* 16″ lower bout dimension
* 4 1/4″ deep sides at end pin area
* burnished ebony bridge has 2 3/16″ string spacing
* polished bone saddle is compensated for correct intonation
* Snake wood bridge pins
* deluxe arched top & bottom hardshell case is plush lined
FOR MORE INFORMATION ON GW BARRY GUITARS, INCLUDING PRICING, CLICK HERE.