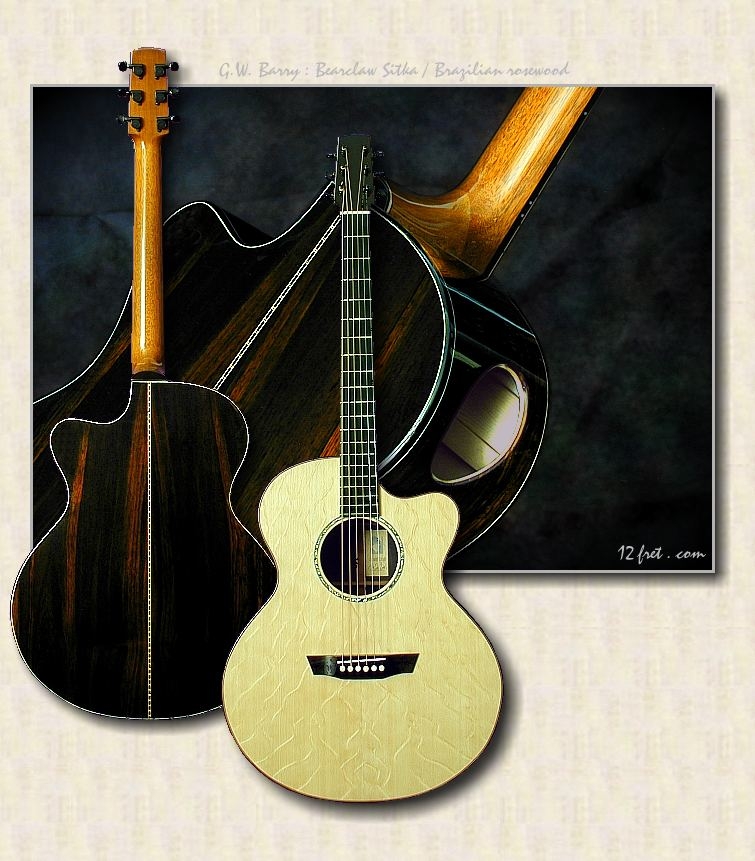 It just struck me that when I play an instrument made by G.W. Barry, I don't have any of my usual questions. You know … questions like "I wonder if I used heavier strings if I'd get more oomph out of the bass?" or "Why do the strings feel so stiff on this thing" or even "Why does this guitar react so much better to a light attack with fingers but not so well with a moderately aggressive pick attack?" There are definitely no questions with this guitar! This is definitely not one of those instruments that five minutes after you first start playing it, you find yourself thinking about the next guitar you want to buy!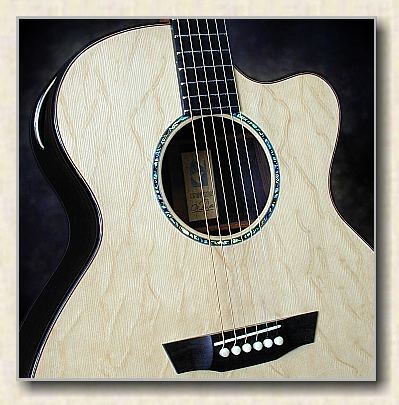 The neck contour, fingerboard radius, fret crown, waist placement, scale length and string spacing on this instrument are all very carefully calculated to offer the absolute maximum ease of playability. This spectacular hazelficte figured Sitka top with it's superior strength-to-weight ratio provides stunning immediacy of response! The side port gives the player a sonic gratification that was unheard of before this innovation was conceived, while the seasoned Brazilian rosewood with it's deep intense hues and dramatic "Rio" grain pattern imparts a rich note fundamental that is the foundation of this stunning guitar's overall tonality! All of these attributes coalesce in an instrument that engages every particle of your musical sensibility … no obstacles or roadblocks … just a beautiful conduit for your creativity!!!
FOR MORE INFORMATION ON GW BARRY GUITARS, INCLUDING PRICING, CLICK HERE.
Specifications
G.W. Barry Custom Brazilian Rosewood
* 1 23/32″ wide polished bone nut
* radiused ebony fingerboard
* tropical mahogany neck with dovetail neck joint
* 650 mm scale length
* adjustable truss rod
* 16″ body with Venetian cutaway
* 4 1/4″ side depth at end pin
* Master Grade "Bearclaw" hazelficte Sitka top
* old growth Brazilian rosewood back & sides
* side port
* ebony bridge with 2 3/16″ string spacing
* intonation compensated bone saddle
* abalone Paua shell rosette
* ebony body binding
* thin gloss nitro lacquer finish
* deluxe Tweed arched top hardshell case

FOR MORE INFORMATION ON GW BARRY GUITARS, INCLUDING PRICING, CLICK HERE.
no images were found