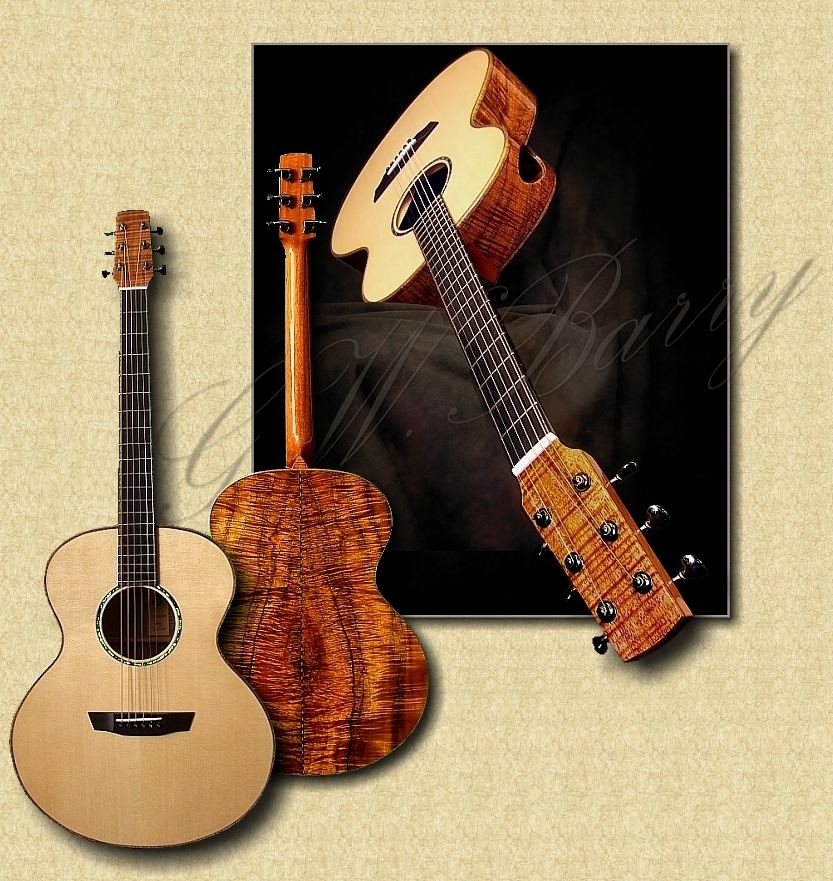 OK, you're stranded on a desert island … what guitar do you want there with you? Well there is pretty stiff competition to say the least, with all of the talented luthiers out there. So what is the criteria? Personally speaking, I want something with staying power … a guitar that I won't get sick of looking at … a musical instrument with many layers of sound … that reacts differently with every subtle variation in pick or finger attack … something that when you wrap your hand around its neck and start playing, just takes you away to a different place.
This latest Concert model from veteran luthier G.W. Barry is very definitely my personal "desert island" guitar choice. For starters … have you ever seen a more beautifully proportioned instrument … and what gorgeous-yet-understated appointments! I just love the koa pinstripe inset around the fingerboard and the simple but striking koa top perimeter. Of course I probably should have started with pointing out this Master Grade Engelmann top or the incredibly deep figured Hawaiian koa set … simply stunning!
.
After picking my jaw up off the floor when I first opened the case on this one, I got down to the real business … playability & sound. This, in my opinion, is where Mr. Barry's skill and experience as a guitar player kicks in. Gordon has been a professional guitar & mandolin player for decades and because of this, has an uncanny knack for setting up his instruments absolutely perfectly … his fingerboard edges are ever-so-slightly "rolled" for maximum comfort, the edges on the nut & saddle softened, nut slots at the optimum height, precise intonation … perfect neck relief … all of these aspects done intuitively from a player's standpoint.
I don't think I have ever met another luthier who has worked so successfully at evolving and precisely dialing in his own personal sound. Anyone who has been lucky enough to play one of G.W. Barry's instruments will attest to the fact that these guitars have the power and nuanced complexity to totally engage both the player and the listener's full attention. I have played this guitar with a light & controlled fingerstyle technique and I've attacked aggressively with a pick … and it seems to love it either way. A light attack seems to showcase the layers of shimmer in the high end note partials … where a solid attack with a pick really brings out the wonderfully muscular note fundamentals and cutting power. You know, come to think of it … I could use a little down time on a beach somewhere!!!
Sound Clip of Dave Martin playing this guitar.
Specifications
G.W. Barry Concert Engelmann / Hawaiian Koa
* 1 3/4″ wide bone nut
* beveled figured Koa peghead overlay
* one piece tropical mahogany neck
* reinforced dovetail neck joint
* mother-of-pearl side dots at 3, 5, 7, 9, 12, 15 & 17
* 25 1/2″ scale length
* ebony fingerboard binding with koa inset
* medium/low elliptical neck profile
* truss rod adjusts through soundhole
* precision Gotoh 510 mini tuners
* Master Grade Engelmann spruce top
* deeply figured Hawaiian koa back & sides
* 16 1/8″ lower bout dimension
* 4″ deep sides at end pin area
* Paua abalone shell soundhole rosette
* side port
* flamed koa body binding with black edge fillet
* burnished ebony bridge with 2 5/32″ string spacing
* intonation compensated polished bone saddle
* gloss lacquer finish
* deluxe arched top & back hardshell case is plush lined
FOR MORE INFORMATION ON GW BARRY GUITARS, INCLUDING PRICING, CLICK HERE.