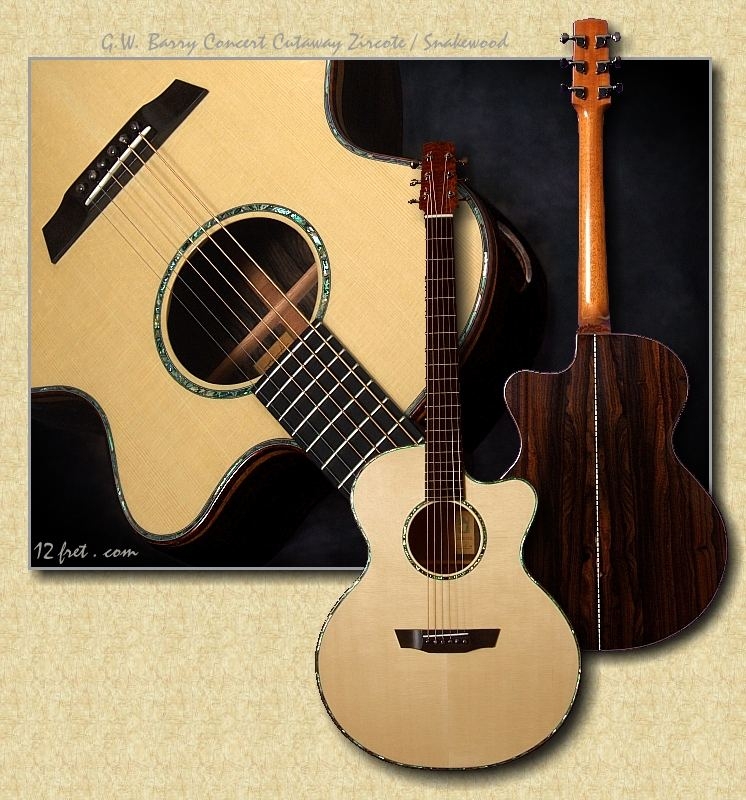 Sometimes a luthier has to throw everything he's got at a project … every tasteful aesthetic upgrade, that top he has been saving for a decade, the very best exotic set of back & sides, absolutely everything learned in the last 25 years of professional building … the whole enchilada. Sometimes the sound of a guitar such as this falls short of expectations. In this particular case, it has produced the best instrument to date from the already very impressive track record of veteran luthier G.W. Barry!
The buzz on this instrument started even before it hit the spray booth to begin the finishing process. At this point, players know that most of Mr. Barry's instruments get made-to-order or sold before they even hit the sales floor. We get a steady stream of emails asking what is coming up that will be available for sale from this builder and by the time the strings go on for the first time, I always have several players wanting the instrument!
So view the photographs, check out the specifications, listen to David Martin's beautiful mp3 … and realize that none of them do justice to one of the best steel string guitars I have ever had the honour to play in my life!!!
FOR MORE INFORMATION ON GW BARRY GUITARS, INCLUDING PRICING, CLICK HERE.
Specifications
G.W. Barry Concert Cutaway guitar
* 1 3/4″ wide bone nut
* radiused ebony fingerboard
* Snakewood peghead overlay & heal cap
* precision Gotoh 510 mini tuners with black/chrome plating
* medium/low elliptical neck profile
* one piece tropical mahogany neck
* hand fit dovetail neck joint
* 25 1/2″ scale length
* Master Grade bookmatched Engelmann spruce top
* scalloped Adirondack spruce struts
* premium Ziricote back & sides with Rio grain pattern & sapwood sections
* Snakewood body binding
* premium Paua shell rosette & top perimeter
* bevelled side port w/Snakewood internal trim
* burnished ebony bridge
* intonation compensated bone saddle
* marbled black horn bridge pins
* 2 3/16″ string spacing at the bridge
* ultra thin gloss lacquer finish
* deluxe arched top hardshell case
* Limited Lifetime Warranty
FOR MORE INFORMATION ON GW BARRY GUITARS, INCLUDING PRICING, CLICK HERE.