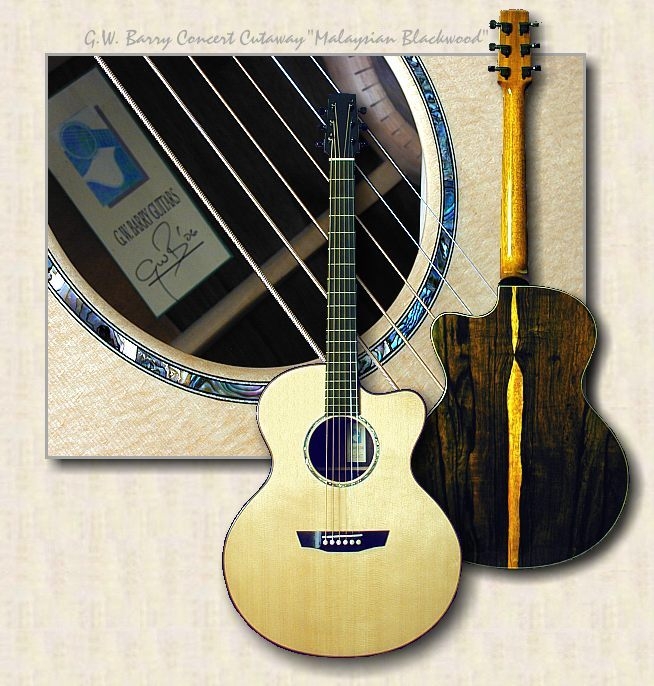 Helmholtz resonance, tap tones, Chladni patterns, top deflection specifications, tone bar placement, strutting configurations, back plate reflective properties, top radius, frame stiffness, scale length, bridge mass, saddle downbearing, soundhole aperture, finish thickness & flexibility, vibration absorption qualities of glue, machine head mass, top plate strength-to-weight ratio, tonewood species … would you believe that these are just SOME of parameters to consider when building a guitar?
Luthiers utilize laser interferographs, tone generators, brush chart recorders, micrometers and any other tool they can think of to quantify and record these parameters but you know what? The most important calibration tool used by builders of ANY era is the human ear. You can have all of the high-tech-state-of-the-art gizmos in the world … you can harvest your spruce only during the full moon to reduce sap content … you can season your rosewood until the cows come home BUT if you don't have good ears you're just rolling the dice. Gordon Barry has the best pair of ears in this business. He is a very talented musician who knows the sound he wants to hear and after twenty-five years of building guitars professionally he is producing one of the most responsive, distinctive, rich and dynamic guitars in the world. This man is in my "top three builders anywhere, anytime" list!!!
This new Barry Concert Cutaway proves my point. Forget the immaculate joinery, clean crisp design lines and classic overall aesthetic. Don't get side-tracked by the tight grained spruce top or the luscious grain pattern in this rare set of Malaysian Blackwood. For the time being, ignore the perfect physical balance and effortless playability of the burnished ebony fingerboard and highly polished frets. Zone in on the sound. I am serious. The immediacy of response, dynamic range and tonal complexity of this instrument places it in the very top percentile of guitars I have ever had the pleasure of playing!
A part of the sonic authority that this instrument offers is due to the side port. At this point in time I've played a lot of different builder's instruments that include this relatively modern feature. Some instruments seem to benefit greatly from the additional aperture … others not so much. Of all of the side port equipped guitars I have ever played, this G.W. Barry "Concert " exhibits one of the most dramatic endorsements for this innovation. Gordon put a lot of time, effort and thought into engineering this instrument to achieve the most acoustic gratification for the player behind the guitar, without compromising the forward throw of sound. I am convinced that this particular side port allows the player to more clearly experience the exceptional tone properties of this instrument … the beautiful "point" to the attack transient, the woody glow of the note fundamental, the very impressive display of overtone partials and just the overall commanding voice!
Yes, this is one BEAUTIFUL looking guitar but more importantly, it is candy for the ears. There's that word again … ears!
FOR MORE INFORMATION ON GW BARRY GUITARS, INCLUDING PRICING, CLICK HERE.
Specifications
G.W. Barry Guitars : Custom Concert with Malaysian Blackwood
* 1 23/32″ wide polished bone nut
* radiused ebony fingerboard
* adjustable truss rod
* ebony peghead overlay with beveled maple perimeter
* tropical mahogany neck
* hand fit dovetail neck joint with single bolt reinforcement
* precision Gotoh mini-tuners
* 25 1/2″ scale length
* ebony body binding
* premium bookmatched Sitka spruce top
* Paua shell soundhole rosette
* burnished ebony bridge with 2 3/16″ string spacing
* intonation compensated bone saddle
* 16″ lower bout dimension
* Malaysian Blackwood back & sides
* 4 1/8″ deep sides at end pin
* side port
* deluxe arched top hardshell case with plush lining
* lifetime warranty
FOR MORE INFORMATION ON GW BARRY GUITARS, INCLUDING PRICING, CLICK HERE.