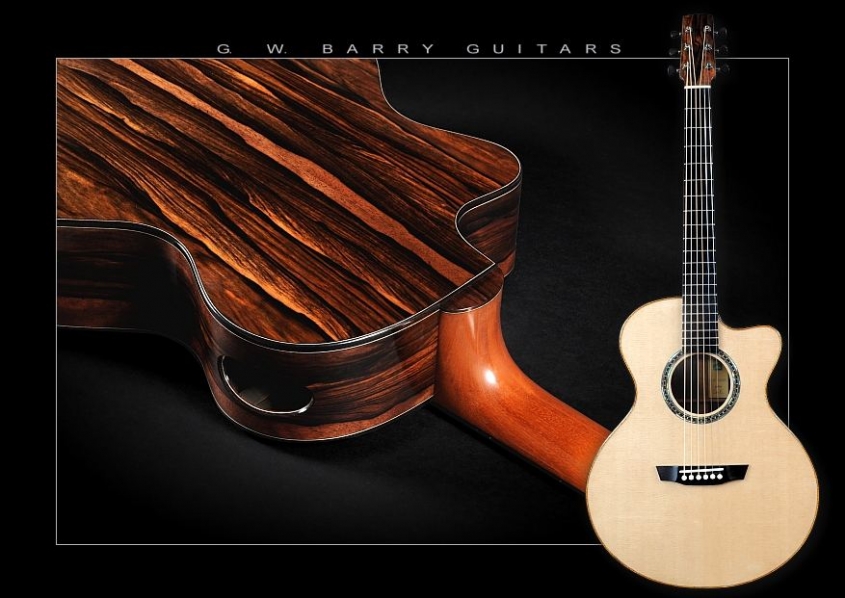 This new G.W. Barry Modified Concert with Royal Macassar Ebony is a wonderful example of what can happen when you have a luthier at the top of their game, visually and tonally striking wood sets and a customer with some specific modification requests. The result is the guitar of your dreams!! As usual the craftsmanship and attention to every tiny detail from G.W, Barry are impeccable and this set of Royal Macassar Ebony is so stunning it could have been a painting!
"One of over 400 different species of Ebony, Royal Macassar is one of the most variegated and just plain gorgeous tonewoods out there. The interplay of light and dark, heart wood and sap-wood, creates landscape imagery over the curvaceous bouts, and lush curtains of ink black lines and softer hues on the back. Its metallic tap tone adds pointed fundamentals and cascading overtones.
Scaled down, by request, to a 15 ½" width lower bout…(effectively the entire perimeter is reduced by a ¼") the "Mod" Concert remains physically balanced while being closer to OM dimension which makes for a very comfortable playing experience. The trick here was to retain strong bottom end fundamentals while reducing the air volume and once again the sideport steps up to add a dimensionality and spectrum otherwise unavailable."
G.W. Barry
Thanks to David Wren for the photos!
---
You can preview our videos now on Our YouTube Channel!
You can now Visit our Facebook page!