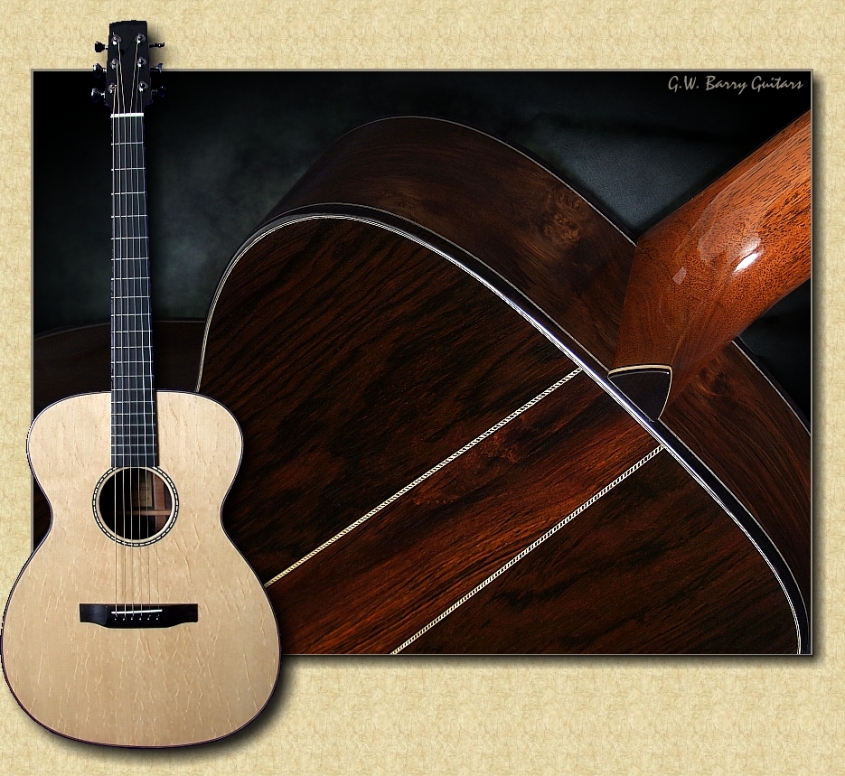 Don't get me wrong … I am all for the new innovations that private luthiers are incorporating into their guitars these days. Bring on all of the built-in bevels … put as many ports as you can possibly squeeze in and inlay it to within an inch of its life … I LOVE that kind of creativity and forward movement in the evolution of my musical instrument of choice. But I have to admit it is also nice to see a veteran builder make an instrument that quietly stands on its own … to be judged as a musical tool based solely on sound & playability.
Of course when a guitar looks THIS great, it maybe won't be judged completely on its intrinsic value. I mean it would be difficult to ignore the almost three dimensional chatoyance from the spectacular hazelficte figure in this Sitka top … and the deep chocolate hues & dark Rio spider-web grain patterns from the old growth Brazilian rosewood are definitely eye-catching to say the least!
But it all comes down to sound. How do I describe this one? I'll let David Martin's two audio files do some of the explaining … and tell you a few things. Number one … I don't think that there is a person working at our store who isn't in awe of this guitar. Number two … David Martin, who has played every flattop to come through our store for YEARS before he started doing our sound samples wants to own this particular instrument … badly. Number three … the Twelfth Fret has one of the largest and best selections of quality flattop guitars of any store in North America and in my opinion, this instrument from Gordon Barry is the best sounding guitar in the building right now!!! The nuanced tone layers, overtone complexity, chameleon like response and sheer power from this musical tool is truly inspiring.
Sound samples by David Martin
FOR MORE INFORMATION ON GW BARRY GUITARS, INCLUDING PRICING, CLICK HERE.
Specifications
G.W. Barry Guitars ; OM Bearclaw Spruce & Brazilian Rosewood
* 1 23/32″ wide polished bone nut
* ebony fingerboard
* 25 1/2″ scale length
* one-piece tropical mahogany neck
* hand fit dovetail neck-to-body joint
* ebony peghead overlay with beveled maple edge
* precision Gotoh 510 tuners with Cosmo Black plating
* medium elliptical neck profile
* bookmatched Sitka spruce top with special Hazelficht figure
* old growth Brazilian rosewood back & sides
* ebony body & fingerboard binding
* custom marquetry soundhole rosette
* burnished ebony bridge
* intonation compensated bone saddle
* 2 3/16″ string spacing at bridge
* Black Horn bridge pins
* Orchestra Model body shape
* 15″ lower bout dimension
* 4″ deep sides at end pin area
* deluxe arched top hardshell case
* lifetime builder's warranty
FOR MORE INFORMATION ON GW BARRY GUITARS, INCLUDING PRICING, CLICK HERE.