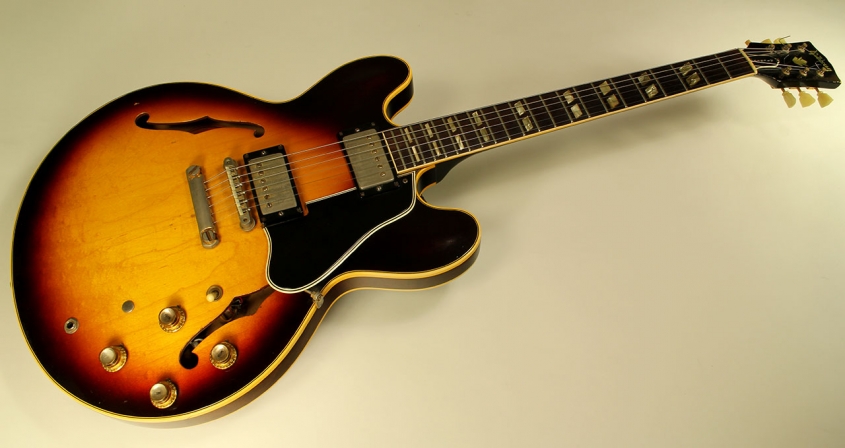 Serial Number
100522, built in 1963

SOLD

Pricing
$7,050 CND with origianl case.SOLD
Neck
Mahogany neck with bound rosewood fingerboard; split-parallellogram markers; mother of pearl Gibson and leaf logo. The headstock was damaged many years ago, professionally repaired and the neck sprayed over. It has been a solid repair for over a decade.
Frets
Refretted long ago with some wear, but the frets are in good condition.
Body
Laminate maple with center block, F-holes.
Finish
Original nitrocellulose lacquer in tobacco sunburst; neck has been sprayed over the original finish. This guitar has been used professionally on stage and in studios, and it's got a few dings and scuffs, but overall is in good condition.
Hardware/electronics
Original Twin PAF humbucking pickups, pickup selector, individual volume and tone controls. The original Varitone switch has been removed and capped, and the switch assembly is in the case. Original gold Tune-A-Matic with nylon saddles, gold stop tailpiece with much plating wear, gold Kluson deluxe tuners with plastic keystone buttons.
Playability/Action
This plays smoothly and cleanly. It's got a warm, full tone with lots of body.
Case
Original case included.
Comments
Close to the top of the Gibson semi-acoustic line, it's easy to see from this example why these guitars were favoured by players who needed tone and playability along with a classic appearance. This guitar is in overall good condition.
---
You can preview our videos now on Our YouTube Channel!
You can now Visit our Facebook page!