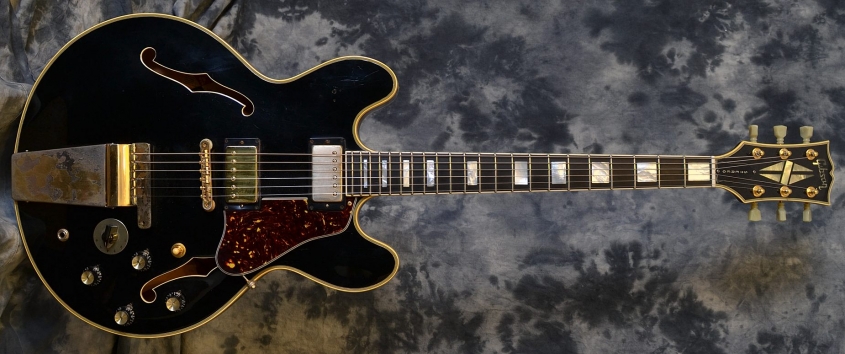 | | |
| --- | --- |
| Serial Number | 130214 |
| Pricing | $2950.00 CND (approx.$2909.USD as of Dec.2/2011) SOLD |
| Neck | Mahogany neck, ebony fretboard, block inlay, 24 3/4″ scale length, low profile neck shape. |
| Body | Semi hollow body, laminate construction. |
| Finish | Black finish with lots of small scratches and dents. |
| Hardware/electronics | New pickguard, original bridge and tail piece which is very worn, new Kluson tuners, all the electronics have been replaced and Bob Wodjic pickups have been added. It is currently wired for mono and all of the original electronics are in the case and included in the the sale. |
| Comments | This mid 70's Gibson ES-355 has seen a fair bit of play time and is heavily modified but it does come with all of the original electronics should you choose to restore it. Also comes with original black Gibson hardshell case. |
Here are some extra images of this instrument, with the pickups and pickguard removed; also one of the small chip on the back finish — it's much smaller than it looks in the image!

---
You can preview our videos now on Our YouTube Channel!
You can now Visit our Facebook page!