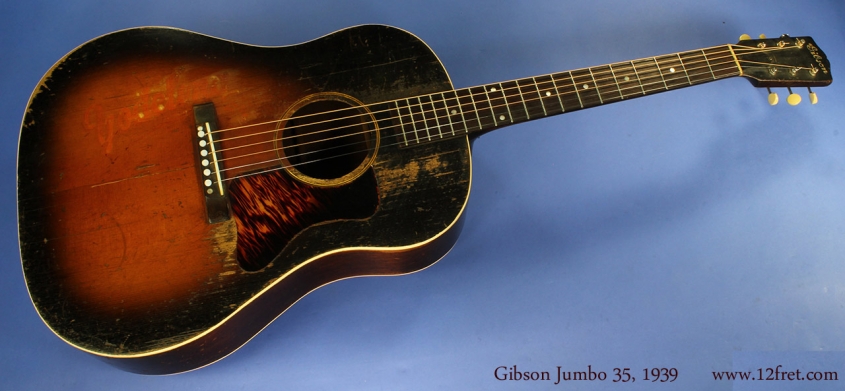 Serial Number
EG 5669, built 1939
Pricing
$6999.00 CAD with later hardshell case.  SOLD
Neck
Mahogany neck with rosewood fingerboard, black lacquer headplate with script Gibson logo and dot markers. A definite V-profile, the neck was professionally reset many years ago.
Frets
A fair amount of wear in the lower positions, and the guitar was likely refretted long ago.
Body
Mahogany back and sides, spruce top. 'Fire stripe' pickguard. Non-scalloped braces.
Finish
Original finish with lots of play wear. This guitar was definitely used as as the maker intended!
Hardware/electronics
The original strip tuners have been replaced, with one further replacement. There are two mother of pearl dots on the bridge. For many years, Gibson used two small bolts to locate and secure the bridge, and the dots cover the bolt heads.
Playability/Action
This is a fully playable instrument, and it plays well and has a full, warm yet crisp tone.
Case
Later hardshell case included.
Comments
This is a great piece of authentic Canadian music history. It probably wasn't on any hit records, but thousands of people listened to and danced, laughed, cried and sang with it during World War 2. Our information is that it was originally owned by one Gordon Jay, who billed himself (as did Hank Snow!) as the "Yodelling Ranger" – hence the 'Yodeladey' on the top – during a period before WW2 when he frequently appeared on a radio station in Summerside, Prince Edward Island.It was sold just before the start of the War to the current owner, who used it in a band named "The Rainbow Orchestra" at dances in places like the Straits Hall in villages like Cape Tormentine, New Brunswick. At the time, Cape Tormentine hosted the main ferry terminal to Borden, Prince Edward Island Borden is currently the Island end of the Confederation Bridge, but Cape Tormentine isn't the mainland end, so it's not as popular a place as it was then.Introduced as the 'Trojan' in 1937, Gibson quickly renamed this model the 'Jumbo 35' and listed its price as… $35 . It replaced the Jumbo, which was not selling well at $60; that model was made for only two years, 1934-1936. The Jumbo 35 is arguably a better guitar than its more expensive predecessor, with a smoother and warmer tonal response. More recently Gibson re-introduced a similar guitar called the J-35 in 1983.

This 1939 example is in fully playable condition, and though it certainly isn't as new it's a good sounding and playing guitar; it provided stalwart service during many dark years and is still ready to go.
---
You can preview our videos now on Our YouTube Channel!
You can now Visit our Facebook page!