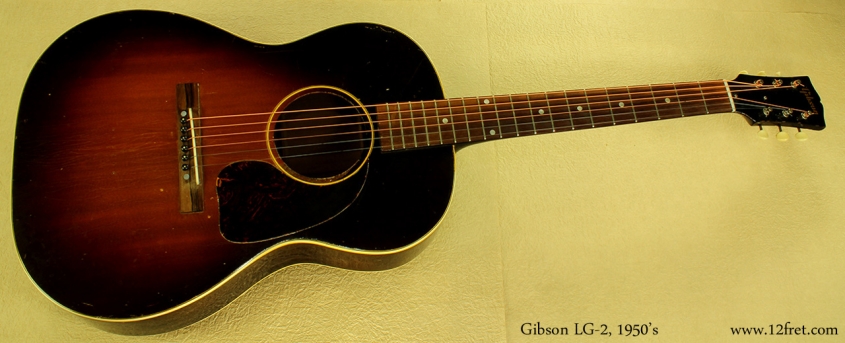 Comments
Here's a very cool Gibson LG-2 from the 1950's. The LG-2 featured a X-braced spruce top with mahogany back and sides and a sunburst finish; the LG-3 was the same guitar with a natural-finish top. The LG series were introduced in 1942 but only the LG-2 was made continuously through WW2.In 1955, the JG-2 got a larger pickguard and went to 20 frets; this has the smaller pickuard and 19 frets so it was made before 1955.This instrument is in good playing condition, and had some alterations and repairs over the years. A trapeze tailpiece was installed and later removed; the holes were filled and some over-spray refinishing was done. There are six unrepaired but stable cracks on the back.

The LG-2 delivers that characteristic warm Gibson sound, and it's a very comfortable guitar to play and listen to.

Serial Number
N/A, built during the early 1950's.
Pricing
$1899 CAD including fibre case.
Neck
Mahogany neck with unbound rosewood fingerboard, 19 frets in total on 24.75″ scale. Silkscreened gold Gibson logo on headstock.
Frets
Moderate wear particularly on the lower frets.
Body
X-braced spruce top with mahogany back and sides; top and back are bound. Rosewood bridge (likely brazilian). On the back, there are six grain cracks, as much as 3 inches long, and though none have been repaired they all seem stable.
Finish
Nitrocellulose lacquer finish, some overspray over original finish. Generally, this guitar has honest play wear showing that it's been used for its intended purpose.
Hardware/electronics
bone saddle, nickel strip tuners with white plastic buttons.
Playability/Action
Plays well with space on the saddle for adjustments.
Case
Non-original fiber case included.
---
You can preview our videos now on Our YouTube Channel!
You can now Visit our Facebook page!