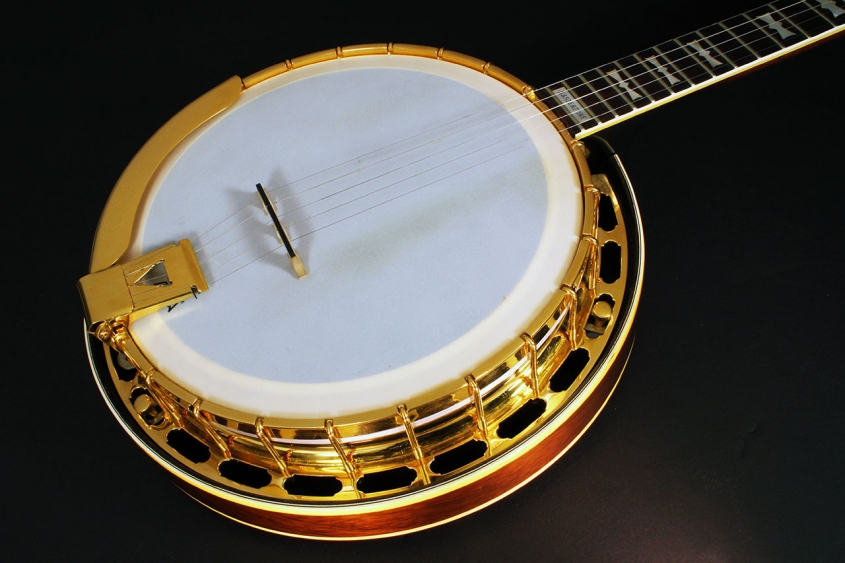 Serial Number
52032, built in 1962.
Pricing
$2899.99 with case. SOLD
Neck
Honduras Mahogany neck with bound Brazilian rosewood fingerboard; mother of pearl 'Bowtie' inlays. Mastertone inlay at last fret.
Frets
Medium frets with about 30% wear. We will dress, recrown and polish the frets for the buyer, so the banjo will play 'as new' – or better!
Body
Honduras Mahogany with RB3 style trim on the resonator back. Original archtop 4-hole tone ring, flange, tension hoop and tailpiece.
Finish
Original Tobacco sunburst lacquer finish in 8/10 shape, some wear on resonator.
Hardware/electronics
Gold plated tension hoop, retainers, armrest and tailpiece; nickel plated Kluson tuners (the type also used on the Firebird models!) with ivoroid keystone buttons; two capo tacks installed at frets 7 and 9. original Kluson 5th string friction tuner, in nickel; we will upgrade to a standard Gotoh SPBJ-5 Geared tuner at no charge to they buyer if requested.
Playability/Action
Currently at standard action, 5/64 with head tension at G#. Some archtop players prefer head tension slightly higher. We can adjust to suit, and this would follow any of the included fret dressing.
Case
Hardshell case included.
Comments
There has been some discussion on the hardware used on this banjo. The RB-250 did not come factory in gold but that said, in 1962 Gibson would fill virtually any custom request. The hardware shows none of the pitting typical of re-plated hardware. Also the cost to upgrade after the banjo was built would have been huge so we are going on the theory that this was a custom order. Tailpiece: I found several of these gold-plated tailpieces in the boxes of 1960s Gibson hardware I acquired when Gibson Canada shut down in 1979. So I am assuming they were stock Gibson issue for at least a few of their gold plated banjos, though I've never seen any. I gather they were made by Elton but am happy for input from anybody out there who knows more.

Tone: classic Gibson cluck but with a little more top end snap due to the added brightness of the archtop ring

The bright tone of the archtop complements the warmer tone typical of mahogany banjos for a fat but very tight and articulate bottom end tone.
---
You can preview our videos now on Our YouTube Channel!
You can now Visit our Facebook page!
Check out Grant's Banjo Setup Q&A