This guitar has been part of my family folklore since my cousin bought it in 1960. For me as a six year old, watching him play at family sing-alongs was pretty heady stuff !
In 1960 the Goya guitar was the only affordable, well made guitar for "financially challenged" Canadian university students caught up in the folk music craze of the Hootenanny era.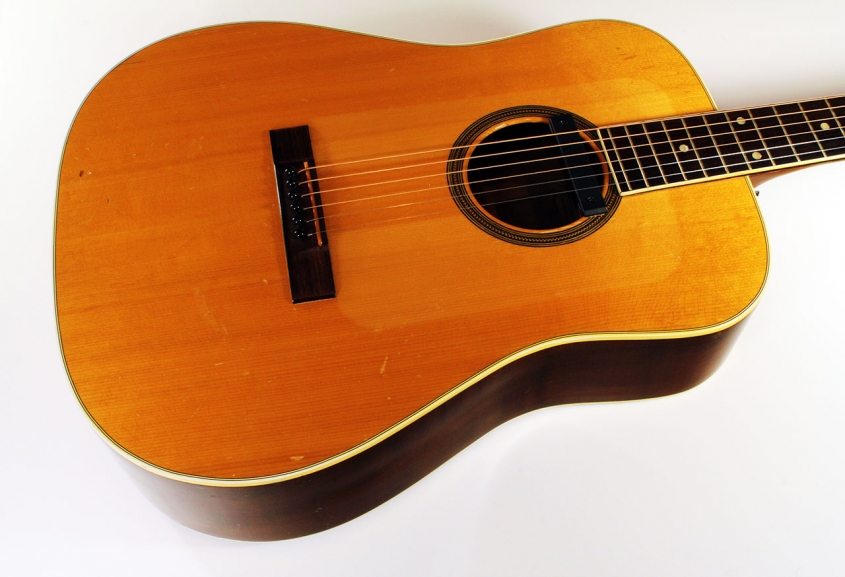 And the huge 2″ wide neck of the Goya was ideal for my cousin's enormous mitts as he was McMaster University quarterback… when he wasn't playing coffee house gigs or protesting injustice.
As the years went by, other guitars and banjos came along and the Goya went into storage.
But in its prime it had a very interesting life; among other things it played at the NDP rally where Tommy Douglas won the leadership of the party. It played in Massey Hall, The Pantages Theatre in Winnipeg and even the Music Hall in the Hague in the Netherlands…and to quote my cousin: more dumps and dives than most can imagine !
Highly skilled craftsman were plentiful in post war Europe and the quality of the instruments out of the Swedish Goya factory was certainly world-class. They had some unusual features that kept them from becoming main-stream in the USA; the most obvious being the extra wide neck, 12 fret neck joint and top-and-bottom flamenco style white plastic pickguards.
This guitar would be the ideal "cottage guitar" for a player with large hands looking for a full bass, fingerstyle guitar. All original except for the Lace Soundhole pickup which can be easily removed.
The finish is well worn but well cared for; the nitrocellulose lacquer finish that is thoroughly lacquer-checked over every square inch of the guitar and there are dozens of minor dings and scratches. There are several spots where the finish has worn and flaked off the back of the neck. No repairs or structural damage anywhere on the guitar and tuners are original.
The top is German Spruce with some bear-claw Back and sides are lightly figured curly German maple with a rosewood bridge and fretboard fitted to an African mahogany neck.
The action is 5/64 treble to 7/64 bass and little room left to lower at the saddle…so playable but ideal for a player with big hands and hard attack as this action is "medium" action as preferred by Bluegrass players with a hard attack. ( not your typical fingerstyle, light-right-hand- attack action were 4.5/64 to 6/64 action is the commonly preferred action height)
The neck is a fixed rod and due to the large size of this neck it should be good for at least another century or two…and could come in handy in a bar fight !
For those who want the original look, double pickguards are available through Jim Dunlop/Herco in the original White or modern clear Mylar in a peel-and-stick format.
| | |
| --- | --- |
| Serial Number | 104616 |
| Pricing | $499 CDN with case. SOLD |
| Neck | African mahogany neck with bound rosewood fingerboard, dot markers. Neck joins body at the octave fret. |
| Frets | 18 frets, with 12 to the body. Some fret wear in lower positions. |
| Body | German spruce top, German curly maple back and sides, rosewood bridge. Dual pickguards removed long ago. |
| Finish | Nitrocellulose lacquer finish. |
| Hardware/electronics | Lace soundhole pickup added with an endpin jack. Original strip tuners with plastic buttons. |
| Playability/Action | Medium action, 5/64 treble to 7/64 bass and little room left to lower at the saddle. |
| Case | Case included. |
---
You can preview our videos now on Our YouTube Channel!
You can now Visit our Facebook page!