In a world of copycat designs and guitar look-alikes, why not dare to be different? Finished in blazing red, the Electromatic Bo Diddley features two chrome humbucker pickups, a maple bolt-on neck with rosewood fingerboard, an adjustable bridge, volume and tone controls plus master tone control and a master volume control, a 3 way pickup selector, and die cast tuners. The distinctive rectangular body measures 9 1/4″ x 17 3/4″ x 1 3/4″.
This guitar's namesake was certainly one of popular music's one-of-a-kind personalities. On November 20, 1955, Bo Diddley appeared on the popular The Ed Sullivan Show, where he infuriated the host. "I did two songs and he got mad," he later recalled. "Ed Sullivan said that I was one of the first colored boys to ever double-cross him. Said that I wouldn't last six months". The show had requested that he sing the Merle Travis penned, Tennessee Ernie Ford hit "Sixteen Tons", but, when he appeared on stage, he sang "Bo Diddley" instead. This substitution resulted in his being banned from further appearances!
Diddley continued to have hits through the late 1950s and the 1960s, including "Pretty Thing" (1956), "Say Man" (1959), and "You Can't Judge a Book By the Cover" (1962). He released a string of albums whose titles — including Bo Diddley Is a Gunslinger and Have Guitar, Will Travel — bolstered his self-invented legend. Although he broke through as a crossover artist with white audiences, he rarely tailored his compositions to teenage concerns. In 1963, he starred in a UK concert tour with the Everly Brothers and Little Richard. The Rolling Stones, still barely known outside London at that time, appeared as a supporting act on the same bill!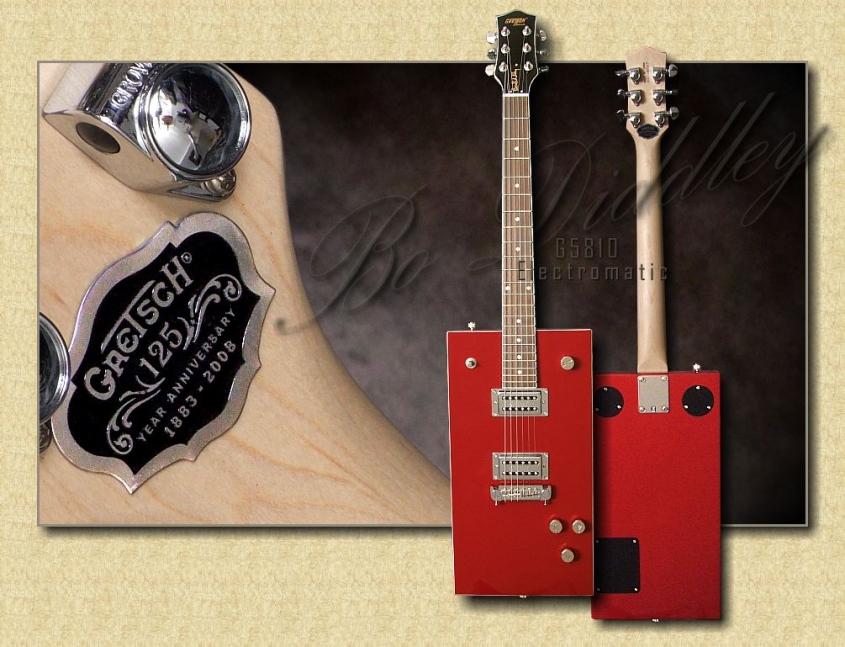 Specifications
* 1 11/16″ wide nut
* bound rosewood fingerboard
* 25 1/2″ scale length
* neck joins body at 15th fret
* Grover Rotomatic tuners
* medium/low elliptical maple neck profile
* adjustable truss rod
* 9 1/4″ x 17 3/4″ x 1 3/4″ body dimensions
* dual humbucking pickups
* Volume/Volume/Tone with Master Volume in upper bout
* Badass-style wrap-around bridge
* low friction matte neck finish
* gloss body finish