Jerry Jones retired in 2011 and ceased production. Consequently, this model has been discontinued. This post is retained for reference purposes.
Not one to rest on his laurels, Jerry Jones has once again improved his popular Neptune Series of instruments. "Our Neptune® series brings to our line even greater quality and more features than ever before. All necks are now clear coated with urethane and hand finished to a silky smooth feel. The original bridging has been replaced with quality Gotoh® bridges that are nested into the top and are suspended over the mounting surface. This configuration has the same tonal action of the bridge as before."
Unique switching systems add more combinations than before. The 4-way rotary switches on two pickup models provide these combinations: neck, neck/bridge (series), neck/bridge (parallel), bridge. Additionally all bridge pickups are now "hot wound" and all pickup combinations are hum-canceling as before. Quality enclosed Gotoh® tuning keys are used throughout the line and a wide array of new colors and vinyl siding dress up the Neptune® series!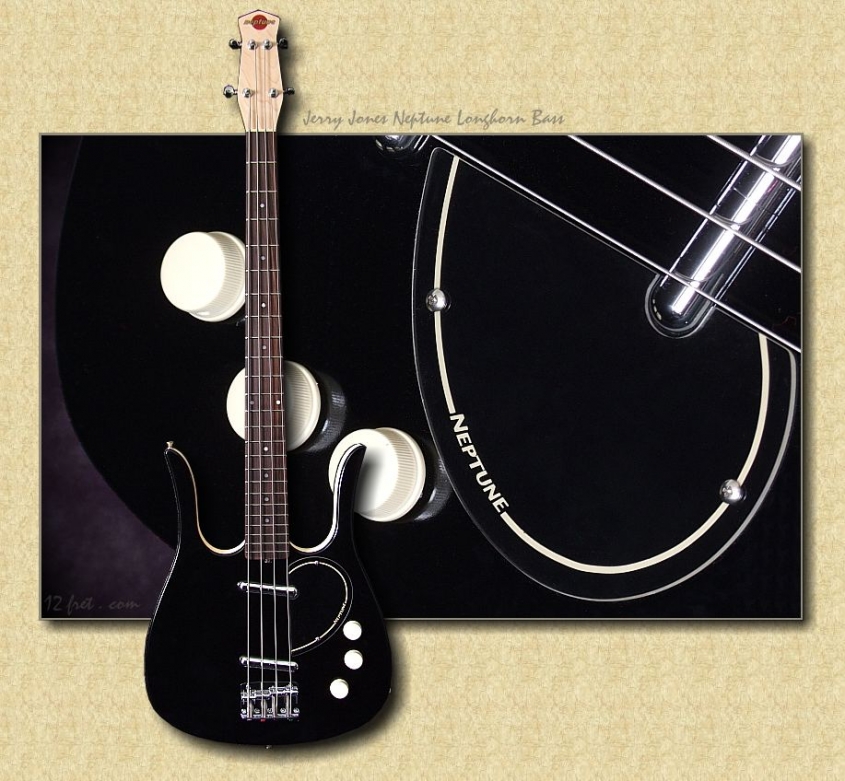 Specifications
* 1 19/32″ wide nut
* maple neck with rosewood fingerboard
* adjustable truss rod
* 30″ scale length with 24 frets
* mother-of-pearl dot position markers
* semi-hollow body construction
* two Jerry Jones lipstick tube pickups
* Gotoh tuners & bridge
* 4-way rotary pickup selector gives
1/ neck pickup
2/ both pickups series
3/ both pickups parallel
4/ bridge pickup