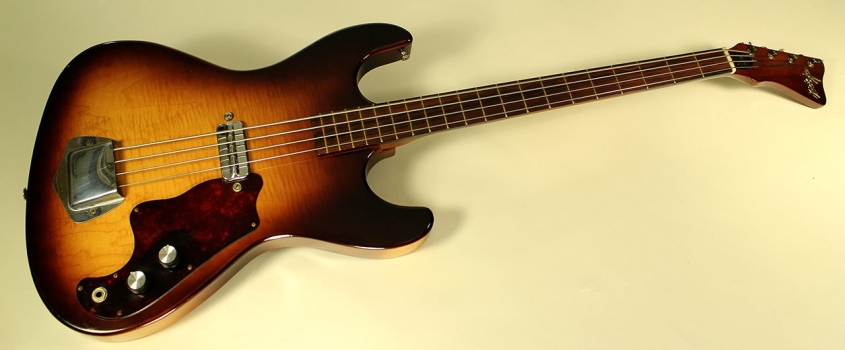 Serial Number
N/A, built around 1962 in Chicago.
Pricing
$999 CND without case. SOLD
Neck
Maple neck with unbound rosewood fingerboard. Bolt-on construction with adjustable truss rod. 30″ scale length, 1 7/16″ nut width.Originally this bass had no position markers, but white dots (drops of paint) have been added to the bass side.
Frets
Very little wear on original frets; 20 frets total.
Body
Curly Maple laminate top, back and sides. The body is hollow with no soundholes.
Finish
A tastefully executed Tobacco sunburst in Nitrocellulose Lacquer. There are a few dings and scratches, but the finish shows off the curly maple very nicely.
Hardware/electronics
One Kay single-coil pickup with a metal cover providing decent shielding; volume and tone controls. Sealed tuners. Tortoise-plastic control plate with the Kay/music stand logo engraved; at one time this would have had paint in it, as the trussrod cover logo still does, but it has worn off over the years.
Playability/Action
Plays well and cleanly; currently strung with a light-guage flatwound set.
CaseCase not included.
Comments
Kay instruments were built under the Kay name from 1931; previously, the company had been Groehsl and then Stromberg-Voisinet. This instrument was built around 1962; it's in good condition, it plays very well and has a quite good tone.
---
You can preview our videos now on Our YouTube Channel!
You can now Visit our Facebook page!