---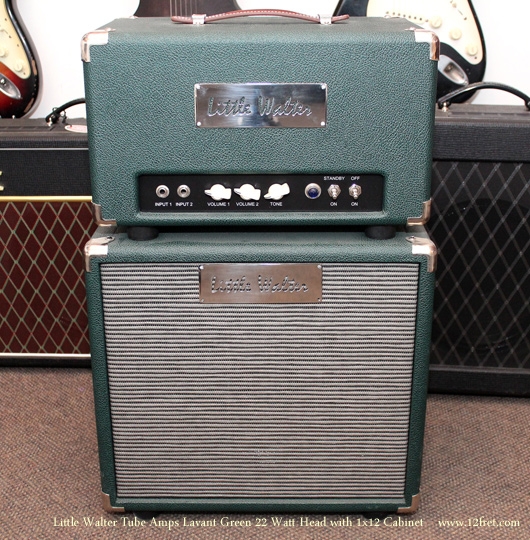 ---
Here is a very cool Lavant Green Little Walter Tube Amps 22 Watt Head with 1×12 Cabinet, built to The Twelfth Fret's specifications.
The Little Walter Tube Amps 22 Watt head has two channels, normal and bright; each has a volume control but share a tone control. It's capable of great breakup with good volume and lots of character. It's based on the Little Walter 15-watt model, but with larger power and output transformers.
For setup, the idea is that you turn your guitar up and then turn the amp volume to reach the desired breakup level. Then, roll the guitar volume back to get to a cleaner tone.
Little Walter tube amps are hand built by Phil Bradbury in West End, North Carolina, USA. Their goal is to reproduce the best, classic amps of the past using point to point construction – no circuit boards, turret boards, or tag boards, to get the shortest possible signal path and hence the best tone and closest representation of the voice of your instrument. Octal tubes and high quality capacitors are used, and all amps have a line out for direct connection to a recording console or PA system.
The name 'Little Walter' doesn't, as you might think, refer to the wildly influential 'Little Walter' – Walter Marion Jacobs, harmonicist extrordinaire who appeared on so many blues recordings. Instead, the story is that around 1976 Phil Bradbury was doing an on-air interview, and friends started comparing him to Walter Cronkite – as 'Little Walter'. The nickname is carried through to these amplifier designs.
Read the Little Walter page about the 22 Watt Model here.
Serial Number: Varies as new. This example is LW1222-602
Pricing: $2799 Canadian   NO LONGER AVAILABLE

---
---
You can preview our videos now on Our YouTube Channel!
You can now Visit our Facebook page!
---