---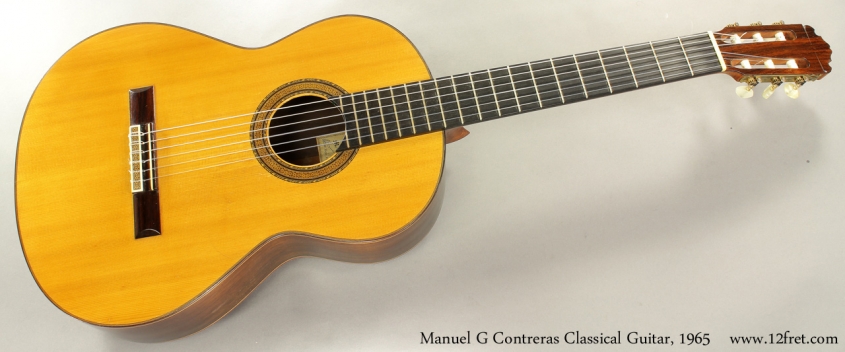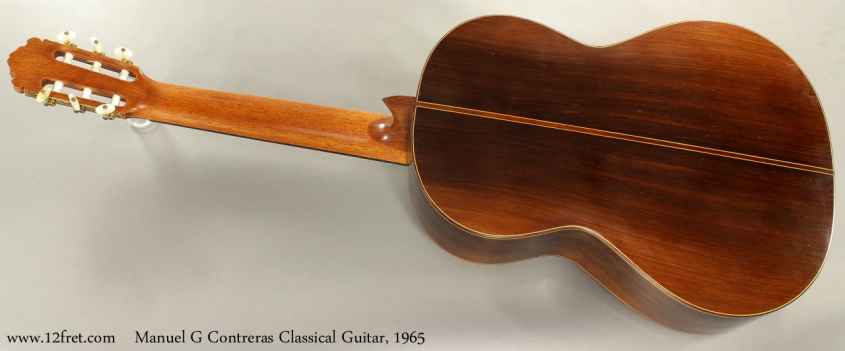 ---
Comments
Madrid, Spain, is home to many small classical guitar builders. Walking around the streets, you're likely to find small shops where you can see the builders at work, and play examples of their instruments.Manuel G Contreras had been a sought after cabinet maker for some time when, in 1959, Jose Ramirez III recruited him to work in the Ramirez shop. Three years later, in 1962, Contreras opened his own shop at 80 Calle Mayor, Madrid. By 1970, he was experimenting with very new construction techniques, including early 'double top', or 'composite top' guitars.

Manuel G Contreras passed away in 1994, and was succeeded by his son Manuel Contreras II, who had been leading the workshop since 1986.

This 1965 Manuel G Contreras Classical Guitar is in good playing condition. Constructed with Spruce top and Brazilian Rosewood back and sides, it has a light French Polish finish. This finish seals the wood surface and very importantly allows the guitar to vibrate with the minimum amount of damping, but it does not provide a hard, heavy, gloss finish. Consequently, older instruments with French Polish finish tend to have more small dings — but better tone.

The scale length is 662mm,  and the nut width is 53mm.

Serial Number
N/A, dated 1965 and signed by Manuel Contreras. This instrument was built at the M G Contreras shop at 80 Calle Mayor, Madrid, Spain.
Pricing
$4,500.00 Canadian with Ameritage humidity control case. SOLD
Neck
Mahogany neck with unbound ebony fingerboard. 662mm scale length, 53mm nut width.
Frets
Original frets with some wear.
Body
Contreras design body with Spruce top and Brazilian Rosewood back and sides. The top has a number of small wear marks.
Finish
French Polish, hand applied lacquer finish. This finishing method provides light protection to the wood without impeding its vibration, but does not provide a thick gloss finish.
Hardware/electronics
Original tuners, bone nut and saddle.
Playability/Action
Plays well as is; the action is presently around 8/64ths treble and 10 64ths bass with the saddle quite low.
Case
Ameritage hardshell case with humidity control system included.
---
---
You can preview our videos now on Our YouTube Channel!
You can now Visit our Facebook page!
---