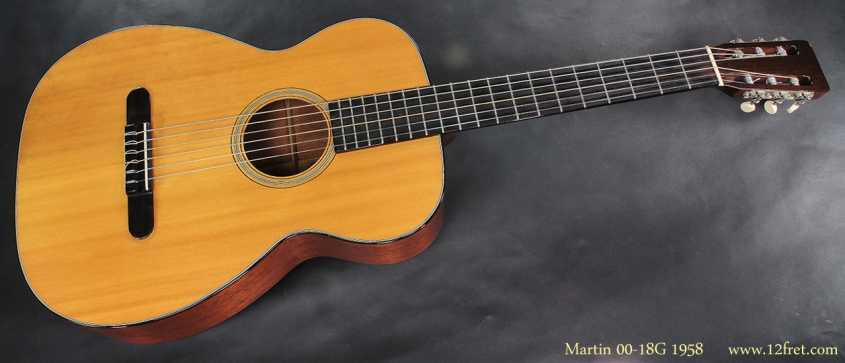 Comments
Here is a very clean Martin 00-18G, built in 1958.

In the late 1950's folk music revivals started in many countries. In response to this, instrument companies started making more nylon string instruments, which differ from what we now call 'classical' instruments in many ways. They are based on steel-string instruments, are intended to be strummed or plucked, the neck has the vintage 'V' profile and is just narrow enough that you can use your thumb for fretting!

This is a good-condition example of Martin's efforts. The 00-18G was made from 1936 to 1962, when it was renamed the '00-18C'.

Serial Number
170407, built during 1958 in Nazareth, Pennsylvania, USA.
Pricing
$1599.99 CAD with non-original case. SOLD
Neck
Mahogany 12-fret neck with unbound rosewood fingerboard and headplate. Dot position markers on the edge of the fingerboard. C F Martin logo is on the back of the head. 24.9″ scale length and 1 15/16″ nut width.
Frets
Original frets with minimal wear.
Body
00-size body with spruce top and mahogany back and sides. Scalloped fan bracing in spruce.
Finish
Original nitrocellulose lacquer finish in good condition; a few dings and scratches here and there.
Hardware/electronics
All original hardware, open strip tuners with aluminum rollers.
Playability/Action
Plays very well, and as expected for a nylon string guitar.
Case
1970's hardshell case included.
You can preview our videos now on Our YouTube Channel!